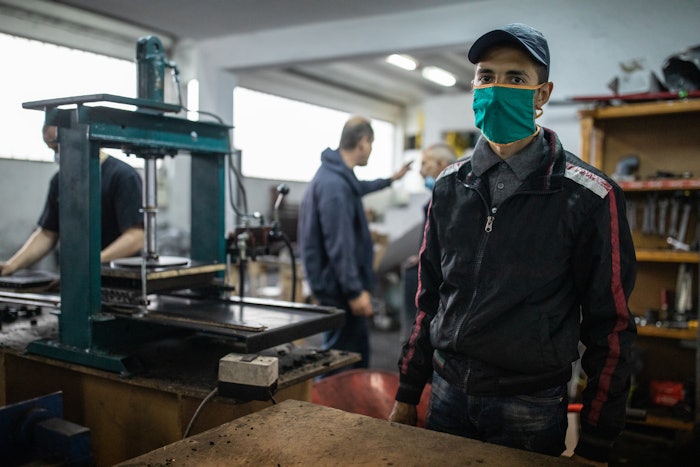 As the COVID-19 pandemic rapidly changed the way the entire world handled business, machine builders had to quickly adapt to keep production running while answering to increased demand and also making sure employees were staying safe and healthy. PMMI, the Association for Packaging and Processing Technologies, continues to monitor the situation daily, while also following the Center for Disease Control and Prevention (CDC) and World Health Organization (WHO) guidance. For member companies, the association created a COVID-19 resources page to help keep OEMs updated on changes to its events, as well as provide information on how to navigate business during these challenging times.
To access PMMI's COVID-19 resources page, visit: pmmi.org/coronavirus
Here are some critical resources machine builders can use to inform their organization, empower employees, and protect their business.
Economy update and projections
Even before the developments related to the two black swan events—COVID-19 and the international oil price conflict—ITR Economics was expecting a minor downturn in the industrial economy during the first half of 2020. However, the black swan events have exacerbated the downturn. ITR's new forecast for the U.S. industrial production sector suggests that industrial activity will contract into at least late 2020 and potentially into the first quarter of 2021.
"While we are not forecasting a period of contraction that is comparable to the Great Recession of 2008-2009, we are expecting this to be the most severe decline since then," says Taylor St. Germain, an ITR analyst. "But there is good news on the horizon. While the recovery is likely to be delayed as a result of the double black swans, we do expect industrial activity to be in business cycle ascent by mid-2021. We expect expansion in U.S. industrial production to characterize the latter half of 2021 and the majority of 2022, with record output by the middle of 2022."
According to ITR, here are some considerations and actions OEMs should take during this time to position themselves for success.
As you fortify your supply chain, justify associated costs to customers by highlighting the value proposition of your increased resiliency.
Proactively communicate your response measures to relieve clients' anxiety, generate goodwill, and establish your brand as a market leader.
Leverage technology and automation to mitigate risks related to workforce and sales channel vulnerabilities.
Make sure you are in contact with your banker and that they are aware of your cash position. Liquidity is still there, so it is possible to take on loans at low interest rates.
Find out how to come out on top of a recession by visiting: oemgo.to/recessionwin
Free remote equipment access guide
The OpX Leadership Network Remote Equipment Access: Options Analysis provides a common understanding of various industry methodologies for remotely accessing equipment installed in manufacturing facilities. The goal of this document is to help both OEMs and CPGs enable safe and secure remote equipment diagnostics and assistance. Access this free download by visiting: oemgo.to/opxremote
Live updates: How is business?
To better serve OEMs during this unprecedented time, PMMI is updating its How's Business survey to measure business conditions on a weekly basis. Results are updated every Thursday to reflect any changes in operations, new orders, late payments, and quotation activity among PMMI's membership.
View the results at: oemgo.to/weeklypulse
Improve cybersecurity during a pandemic
During the current pandemic, it has been widely discussed that many companies will transition as much of their workforce to teleworking arrangements as possible in order to keep the workforce productive. With this fundamental shift comes changes to business processes as well, particularly financial ones such as how companies approve and pay bills, receive payments, process wire transfers, or even purchase things like gift cards, since most employees are now approving and carrying out many of these activities remotely.
"This allows hackers to exploit gaps in these processes and take advantage of the lack of internal controls and structure that would normally be present but are suddenly absent," says PMMI's director of IT Andy Lomasky.
Even though the shift to teleworking and keeping businesses running remotely is happening rapidly, OEMs should not compromise on their level of internal controls or cybersecurity measures. Companies need to continue training employees on good security practices and common threats/scams to look out for, and communicate them often, even if it sounds repetitive.
"Now is the time to ensure your cybersecurity foundation is in place. I recommend every company do an audit of its fundamentals," Lomasky says. "Make sure your password policies are secure and consistent. Make sure your firewall and any VPN connections in use are secure. Ensure any solutions you're deploying to facilitate teleworking are properly secured and make use of multi-factor authentication as much as possible. Encourage your employees to make use of secure password management tools while working remotely and recommend that they change them to longer and more complex passwords to make them more difficult to break. And finally, work to increase the level of vigilance of  employees using a computer—they are your front-line defense against phishing and other cyberattacks, and can be the first to stop an attack from ever happening."
For more cybersecurity best practices for manufacturers, visit: oemgo.to/howtopreventcyberattacks
How your peers are handling operations
PMMI's new UnPACKed podcast series allows manufacturers to hear directly from PMMI member companies on how they are addressing key issues during the COVID-19 crisis – including helping employees stay safe, securing aid via the Families First Coronavirus Response Act, remote monitoring, and managing international business.
Here's how some leaders of North American OEM businesses, both large and small, are handling COVID-19.
Mark Anderson, president and CEO of ProMach, talks effective communication across all ProMach companies, as well as handling facilities in other countries.
"We've been dealing with COVID-19 for a while because we have facilities in China. We also have a large facility in Italy and France. We have a COVID-19 response team that is meeting every single day that has various different managers from different parts of our organization. We have a methodology of how we're reaching out to all of our general managers at each one of our businesses so we can understand what's going on on the ground in every single community that we're operating in."
Pearson Packaging's president and CEO Michael Senske talks about how it is staying connected with its customers.
"We utilize a lot of remote meeting technology like Microsoft Teams. We are encouraging our salespeople—where there are plant limitations or closures—to use that. It allows for audio, video, and document sharing, and most customers have responded very well to that. All of our robotic systems go out with hardware that allows remote access as a standard part of the offering. We are starting to leverage that capability, and we have noticed customers who were wary about remote access are now working through their IT departments to allow us to remotely access the equipment."
Morrison Container Handling Solutions CEO Nancy Wilson recognizes her company's importance to the supply chain, but also acknowledges the safety of their employees and colleagues.
"We have always been ahead of the curve in believing that COVID-19 was a real threat, and we were taking action very early on. We need our people to be here and be healthy. Every day, we have multiple meetings in small groups to communicate the importance of safety guidelines. We have staggered shift hours and breaks as we try to create more separation between people."
BellatRx Inc. president Alan Shuhaibar shares how ever-changing mandates are affecting the Canadian market.
"We did reach out to the state government in Quebec to receive permission to keep operating because we are considered part of the supply chain for essential services. On a daily basis, we have a general meeting and our employees receive updates on HR-related issues and a message from me updating them on the happenings at the company. We have seen less resistance from our customers regarding equipment connectivity and remote access, and we are finding that the technologies needed to perform remote maintenance are easy to use."
David Parker, vice president, Human Resources, Duravant, offers direction to the industry on ways companies are handling human resources in the time of coronavirus.
"We have committed to frequent communication and keeping our people informed. We have a mobile communications app that we deployed a year ago to all of our employees. During the course of this crisis, that has been a very valuable tool for us. We also just started rolling out temperature testing at our facilities. We have had one confirmed case of COVID-19 in one of our smaller facilities in the UK. We had a facility response procedure developed and deployed in advance of that case surfacing."
Listen to UnPACKed by visiting: oemgo.to/unpacked