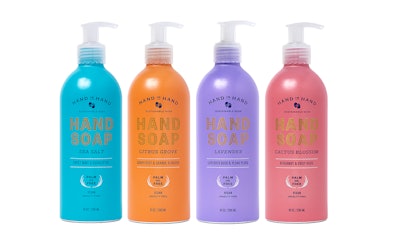 Vibrant, colorful, and custom, new aluminum containers for hand-soap products and a sanitizer from Hand in Hand were among the first such bottles in the liquid hand-soap category when they were introduced in March 2020 and have played a major role in helping the brand expand distribution and grow 1,000% year-over-year.
Inspired by a social mission, Hand in Hand was co-founded by husband and wife Bill Glaab and Courtney Apple as a vehicle to address the lack of access to clean drinking water and soap by children in underprivileged areas. For each Hand in Hand personal care product sold—including bar soaps, lotions, scrubs, body and hand wash products, and sanitizer—Hand in Hand donates a bar of soap and a month of free drinking water to a child in need, with a focus on Haiti and Cambodia.
---
---
Says CEO Glaab, "In 2011, my wife and I read an article that mentioned that 5 million children die each year from water-related illnesses. What was most striking was that if these children had access to soap and hygiene education, these childhood deaths could be cut in half. That was our 'Aha moment': How could we use business to get soap into the hands of these children? From there, Hand in Hand was born—buy a bar, give a bar. To date, we have donated approximately 14.6 million bars."
Billed as "Sustainable Suds," Hand in Hand products are made with 97% or more natural ingredients, are vegan and cruelty-free, palm oil-free, environmentally friendly, socially responsible, and made in the U.S.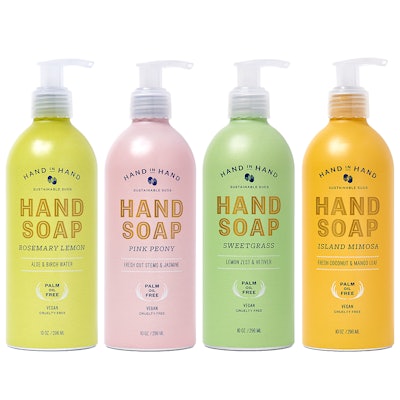 Until recently, the company had only used traditional packaging formats for its products: a carton for bar soap, a plastic tube for scrubs and lotions, and a rigid plastic bottle for body wash products. But awareness of the waste created by single-use plastics prompted Hand in Hand to look at aluminum when launching a new sanitizer and a line of hand soaps.
Explains Glaab, "We chose aluminum because it is infinitely recyclable, whereas eventually, plastics break down over time." Quoting Columbia University's State of the Planet website, he adds, "There is also a large strain on the plastic recycling system in this country, with only 8% of plastic actually getting recycled."
Requirements for the new bottle included functionality and a great form, "since these bottles live in your home and become a part of your everyday life," Glaab says.
After research into potential suppliers for the new packaging, Hand in Hand Director of Brand Development Holly La Porte hit upon Trivium, which was able to take the company's colorful, iconic look and translate it onto an aluminum bottle, for a sleek, modern, and premium look that stands out on the retail shelf and on consumer countertops, without rusting.
The custom, 10-oz bottle with shapely, rounded shoulders, is printed in a range of bright colors that align with the company's established color palette. There are eight hand-soap SKUs, each of which is represented with its own color: e.g., purple for Lavender, orange for Citrus Grove, pastel green for Sweetgrass, etc. Hand sanitizer comes in a brushed aluminum. All bottles are printed with blue copy and the blue Hand in Hand logo, along with gold ink for the product description.
---
---
Launched in Whole Foods in March 2020, Hand in Hand expanded outside the grocery sector when the pandemic hit, partnering with Target. The aluminum bottles at Target were such a hit, it drove interest from other large retailers, including Wegmans, Walmart, CVS, Kroger, Costco, Fresh Thyme, Kohl's, and others. Glaab believes retailers' interest in the product stems in part from the recyclability and sustainability of the packaging, which leads to consumer demand.
The interest from retailers has resulted in rapid growth for Hand in Hand. "As a brand owner, we have grown 1,000% year-over-year, and we believe a large part of that is due to our continued innovation as market leaders," says Glaab. "Aluminum certainly played a large role."
Hand in Hand is in the process of converting much of its existing packaging into aluminum and expects to have more than 20 SKUs available in the new packaging by mid-2021.
Companies in this article