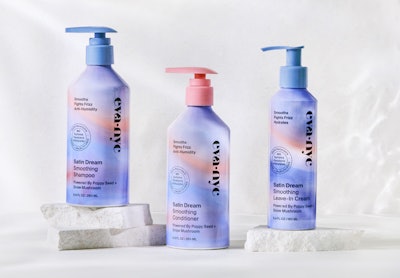 If Brooklyn, N.Y.-based Eva NYC had any doubts about making a switch from plastic to aluminum packaging for its full line of masstige hair care products, the 100% spike in orders in just the first two weeks of the new packaging's launch must have reassured the company of the wisdom of its decision. Introduced in February 2021, the new packaging includes several sizes of a custom-shaped aluminum bottle, decorated with vibrant, shiny pastel graphics in billowing, abstract patterns. Topped with a range of matching pastel plastic caps, dispensing fitments, and trigger sprayers, the cans make a bright and spirited statement.
"Eva NYC is a brand of beauty lovers based in Brooklyn with wild imaginations and an obsession with hair," says company Brand Vice President Jane Moran. "We make products and tools with powerful ingredients and innovative technologies that deliver seriously proven results."
Despite its playful packaging appearance however, Eva NYC is all business when it comes to its company philosophy, ingredients, and packaging. Its consumable products, which include shampoos, conditioners, primers, hair and body mists, and other styling products, use powerful, plant-based ingredients that are certified vegan and GMO-free, certified cruelty-free by Leaping Bunny, and free of harmful ingredients.
"Effective products are key for us, and we always strive to give our customers a good hair day every day, while keeping out harsh chemicals across our entire lineup," Moran says.

---
---
According to the company, its decision to make a change in its packaging was based on the mounting issues around beauty care packaging. Citing 2020 insights from Marketing Tech, Eva NYC says that non-recyclable packaging is the biggest issue in sustainable beauty, with more than 120 billion packaging units produced annually on a global level. "With so many beauty products produced every year, mostly in plastic, we knew we had to do something about it," the company says. "Only 9% of plastics actually get recycled, and we wanted to provide our customers an option to stop purchasing virgin plastics as they are the hardest to recycle.
"[According to a report from marketing intelligence firm WGSN], 88% of consumers said they wanted brands to help them be more sustainable and ethical in their day-to-day lives, and yet 43% said that brands are actually making it harder for them. In fact, the report showed that high prices were the most common barrier for consumers to being more sustainable. Plus, our own consumer research showed that our customers are looking for products that are free of harmful ingredients, cruelty-free, and made with sustainable packaging—as long as those products will still be effective and give her a good hair day, every day"
Eva NYC selected aluminum because of its recyclability and due to consumer perceptions of aluminum versus plastic. "We chose aluminum because it is 100% recyclable, forever," says the company. "Forever means aluminum is infinitely recyclable. This product can continue to be recycled, over and over and over again. It also takes the least amount of energy to recycle aluminum. In fact, aluminum is the easiest material to recycle in the U.S., as all curbside recycling facilities take aluminum. In as few as 60 days, the aluminum container you recycled can be back on the shelf, living its next life.
"[According to a study from Boston Consulting Group], aluminum was also perceived by consumers as two-times more eco-friendly and 1.4-times more recyclable than plastic, with plastic having the highest negative perceptions."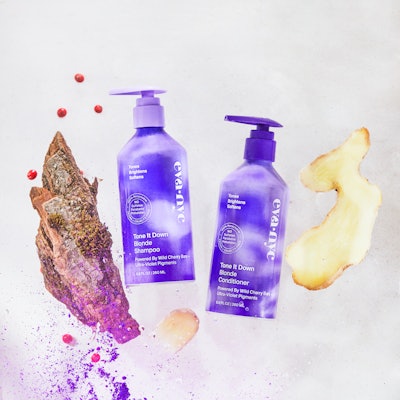 The new bottles are made from 100% aluminum, with some formats containing an amount of recycled material. Eva NYC worked with Trivium Packaging to create adjustments to the supplier's stock molds to create packaging unique to the brand, customizing the artwork, base, finish, and neck for each SKU.
Says Moran, it was also a priority for Eva NYC that the packaging forego plastic labels that could harm the environment, so the bottles are direct litho-printed. The custom gradients used in the artwork, which was designed by Eva NYC's in-house creative studio, use between five to eight colors, depending on the SKU.
With the change, 93% of Eva NYC's packaging is now plastic free, with the balance comprising complex closures, such as caps and triggers, made from polypropylene. Says Moran, "We are in the process of researching and identifying alternative pump materials, as our goal is to move away from plastic components entirely."
In the meantime, however, the company has partnered with TerraCycle, so that consumers can recycle their pumps, caps, and triggers, as well as older Eva NYC plastic packaging, for free. Although it's easier for consumers to recycle the aluminum through their own curbside recycling system, they can also choose to send the entire package—aluminum bottle and pump—to TerraCycle as well for recycling.
Of the news of a shortage of aluminum cans resulting from the pandemic, Moran says the company is aware of the supply chain issues, but through careful demand planning and close communication with its supplier, the company is confident its inventory is not at risk. "We are continually monitoring the situation to make sure we can secure enough aluminum to meet our demand," she says.
---
---
And, the demand is high, as noted, with a huge boost in orders upon the introduction of the cans last February. "Our customers have communicated to us how thrilled they are with our new 100% recyclable packaging and Eva NYC's commitment to sustainability and the environment," says Moran. "We've received an influx of positive feedback on social and through customer service, praising the switch to aluminum packaging and the ease of recycling, the fun and playful new design, and the ease of understanding our key benefits on packaging front and center."
Eva NYC's complete line of products is available nationwide at Target Ulta Beauty, Sally Beauty Supply, and some other mass merchandisers, and is sold online on its own site and on its partner sites.
Companies in this article