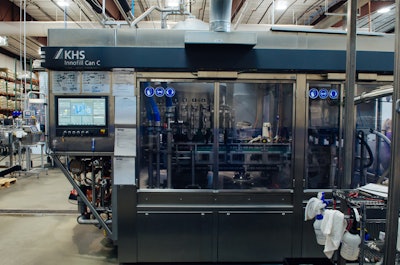 It took Mexico City, Mexico-born entrepreneur Isaac Showaki 30 years, six types of visas, and multiple jobs in the brewing industry to realize his dream of becoming an American citizen and launching his own highly successful beverage business, Octopi. What he learned, as he shared at a 2020 Tedx Talk—"Failing My Way into the American Dream"—was that overcoming failure not only requires persistence, but also the willingness and imagination to try new strategies. According to Showaki, the lesson is, "Don't try and try again. Try, and if you get stuck, try something else."
Ever since his first visit to the U.S. when he was four, Showaki was determined to make America his home. After studying at Boston University, he had a string of consulting jobs that cemented his love for the brewing industry and that brought him back and forth to the states. In 2011, while on an investor's visa, he co-founded the nation's first Latin craft brewery in Chicago. Upon leaving the company and after living in the U.S. for 13 years, Showaki was preparing to return to Mexico when he met his wife—an American citizen—and got his sixth and final visa and then his green card.
Now a part of the American Dream, Showaki opened Octopi in 2014 in Waunakee, Wis., just outside of Madison. The business, initially offering contract manufacturing and contract packaging services for beer brands only, started with a staff of six, including Showaki, and shipped 150,000 cases of product its first year. Today Octopi has 150 full-time employees, with 30 open positions, ships up to 3.5 million cases of beverage products per year, or 250,000 barrels (bbls) in brewing parlance, and handles virtually any type of beverage that can be packaged in a bottle, keg, or can.
The company is in the process of nearly quadrupling its footprint, with a plant expansion that will house a custom-built canning line. Its current packaging processes include a glass bottling line, a canning line, and a kegging line—all from KHS Group. With its end-to-end services and current and future capabilities, Showaki says Octopi is ideally positioned and "right-sized" to help its customers succeed in the rapidly changing beverage industry.
Bad experiences lead to brilliant business strategy
Just as Showaki learned to switch gears in his personal life when confronted with challenges in achieving citizenship, so too did he take a new direction in business after obstacles he faced during his time in Chicago. As Showaki shares, when he started the craft brewery in Chicago, he knew a lot about the craft beer business, but not much about craft beer production. So, he sought help from the contract brewing industry. What he hoped to find was a dependable partner with expertise, but what he found was "a nightmare."
"There were very few co-packers, and for the ones that were available, their quality was horrendous," says Showaki. "The packaging was not what we wanted, and the pricing was terrible. I thought I was going to be able to choose one co-packer and grow with them, but the way it turned out, I had to scramble for volume and capacity. I was working with eight co-packers at a time getting anywhere from a hundred cases, all the way to 3,000 cases per batch. The co-packers were either too small or too large, and the quality was insane—it was low, low, low.
"It was like they couldn't care less about me as a client. They would push me from the schedule, cancel me without telling me, and I had to pay extra. It was just bad experience, after bad experience, after bad experience. And I always said if I had to leave the company, I'd open a good co-packer that focuses on the client and quality. And that's where the idea for Octopi started—from having these really bad experiences."
As Octopi's website explains, the octopus possesses qualities that symbolize the company's objectives in the world of beverages. Among them is to be the client's "extra limb," helping them to grow their business. Continues the site, "Our objective is to tailor our services to our clients' needs. From producing high-quality beverages for new brands and developing their marketing strategy to guiding existing brands in their expansion plans and distribution selection."
Octopi can create beverage recipes, provide consulting and brand development expertise, source materials and ingredients, and aid with merchandising, warehousing, and distribution, among other services, in addition to product manufacturing and packaging.
---
---
As Showaki explains, Octopi is at "the right size," or the middle spot. "We're not small, but we're not gigantic," he says. "That's where we really, really shine. We do whatever the client wants. We have small clients that just want to go straight co-packing. They'll tell us, 'We'll send you all the product and all the raw materials and all the packaging, you just put it together,' and we're like, 'Great.' And we have larger clients who'll say, 'You know what? It's very hard for us to deal with inventory in our systems or SAP or Oracle. We want you to buy everything for us and just charge us for it.' And we're like, 'Great. We'll do that for you.'"
Another quality of the octopus that Octopi shares is that "just like an octopus, Octopi is in constant motion, adapting to the needs of the industry," says its website. It adds, "We have the ability to move with market demands and trends to meet the needs of our clients."
The current "trend" in beverages is complete transformation, according to Showaki. "If you ask anyone right now, the amount of innovation that's coming out of the beverage industry has never been like this before," he says. "Where 20 years ago, you used to have milk, orange juice, soda, water, and coffee, and that was it, now there are probably hundreds of categories.
"I believe the market is going to become far more segmented. The beverage market is still going to grow, but now there will be hundreds of different categories you can play in."
Sensing a decline in the craft beer industry around four years ago, Octopi made significant investments in more processing equipment and capabilities in order to change the focus of the company from being a contract brewer to a beverage co-packer. Today just 30% of its business is beer.
Says Showaki, "Right now we do beer, non-alcoholic beer, hard seltzers, ready-to-drink beverages, craft cocktails, carbonated soft drinks, and adaptogens, and we've been playing with CBD and hemp products. The only beverages we don't do are any dairy products or wild yeast fermentation, like kombucha. But we're willing to tackle any project that's exciting and has good volume. We're willing to take a look at it and see if we can make it work."
Lately Octopi has attracted the attention of a number of multinationals that want to test the waters—no pun intended—with new products, but don't want to make multi-million dollar investments unless the products are successful. Octopi's right-size positioning is ideal for these types of launches.
Investing in the future of cans
Another area where Octopi spotted a change in market demand and quickly adapted was the shift in beverage packaging from glass bottles to cans—a trend that only accelerated during COVID-19.
"Cans are growing much faster than glass bottles," says Showaki. "They're cheaper, and they're better for the environment, because they're recyclable. I can ship 200,000 cans in a truckload, versus 81,000 bottles in a truckload. It's better for freight, better for cost. And then the truth of the matter is, it's better for the product inside—as long as you have a really good packaging line—because the product is completely enclosed. The can protects against sunlight, and it can keep the pressure very nice if it has a good seam and seal."
Octopi's first foray into canning was the purchase of a 100 can/min line in 2017 that Showaki says he hoped would serve their needs for a couple of years. The company outgrew the line within six months.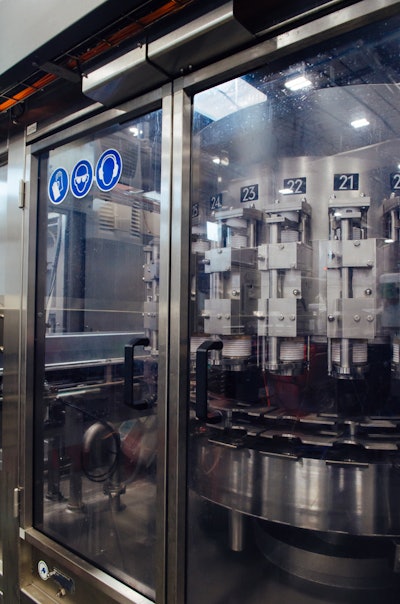 In mid-2019, Octopi replaced its first line with a fully automatic canning line capable of speeds from 335 to 350 cans/min, depending on can size. The keystone of the line is the KHS Innofill Can Compact, or Can C, filler, which had only recently been launched by the supplier when Octopi purchased it. "KHS launched the Can C because at the time, they only had very large canning lines, where the seamer was separate from the filler," says Showaki. "They saw there was a lot of growth for cans, so they engineered a solution for small and mid-sized companies. We got one of the first machines."
The Innofill Can C features the filler, valve manifold, seamer, control cabinet, and paneling in one closed and compact unit. "They created their own seamers," shares Showaki. "We wondered if they could provide equipment with good seaming. But KHS hired someone with a lot of background from a large seaming company, and their seamers are really, really reliable."
The Can C includes 27 volumetric filling heads and six seaming heads. Other features of the machine include a patented purging process that KHS says results in extremely low CO2 consumption. In addition, says KHS, the computer-controlled filling system provides maximum dimensional accuracy; it ensures uniform filling levels and also that headspaces of exactly the same size are created in the cans. The supplier shares that the hygienic design of the Innofill Can C is guaranteed by a gapless bell guide with Teflon expansion joints and bells that are lifted and positioned fully electropneumatically to seal the cans. Product is supplied to the filling stations by a rotary distributor, a design that KHS explains saves space in the filler carousel, making the machine easier to access for maintenance and enhancing hygiene.
Eleven different suppliers, one fully automated line

Given that KHS was still busy rolling out the Can C at the time Octopi selected it, Octopi and KHS agreed it would be best for the supplier to provide the filler/seamer, with Octopi specifying the rest of the equipment on the line. This entailed working with 10 machinery suppliers and a systems integrator, MCE (Modular Conveyor Express), which provided all the conveying equipment and integrated the line.
"The equipment on the line is wonderful. It runs fast, and it's also very, very reliable," says Showaki. "But we were dealing with 11 suppliers, so it was definitely a challenge to commission and run the line. Once it began running, it ran beautifully."
The line begins with a Codi aluminum can depalletizer, the DPL-1000, which automates the process of removing and stacking slip sheets between cans, pushing bulk can supply layer by layer onto conveying, and indexing cans for feeding into the canning line. The equipment handles either brite or preprinted cans, depending on the customer's specifications, in four sizes: 12-oz standard, 12-oz sleek, 16-oz standard, and 19.2-oz standard. According to Showaki, the 12- and 16-oz sizes are Octopi's bread and butter, with the 12-oz sleek making up 45% of its business. The company rarely runs the 19.2-oz can, but the equipment on the line affords the option, if needed.
From the top of the depalletizer, the cans are transported to a conveyor below through the use of a unique lowering element designed by Codi. Showaki says he first saw the system in use at a Coca-Cola plant. The lowering element uses vacuum to hold the cans, which means no changes need to be made when moving from one can size to another. If the cans are brite and require decoration, they are conveyed to a Krones Sleevematic M1 sleeve-label machine, where a film label is applied, after which the cans are conveyed through a steam tunnel, also from Krones, that shrinks the label to the can.
Cans then are conveyed upside down, where they are rinsed with ionized air, after which they are turned right side up, with equipment from Carleton Helical Gear. While upside down, a Diagraph Linx 8900 continuous inkjet printer adds a date code and batch id, or customer required information, up to 3 lines. Immediately following cleaning and coding, the cans enter the KHS Innofill Can C. After filling and sealing, the cans are conveyed through a Filtec Intellect inspection system that checks for seal integrity.
For those products requiring pasteurization, they are then conveyed through a Krones LinaFlex tunnel pasteurizer, after which the cans are dried via a Paxton Products can drying system. The cans then pass through another Filtec inspection system, the 3G, which uses gamma rays to detect the fill level in the cans to ensure the pressure exerted during pasteurization hasn't caused any of the cans to explode.
For secondary packaging, cans are diverted to one of two machines: a PakTech CCA 440 plus plastic can carrier applicator or a cartoner from Design Machine & Manufacturing (DMM Packaging). On the PakTech, Octopi primarily runs four- and six-pack sizes, however Showaki says the company has run dual-packs for special jobs. The machine is also capable of applying an eight-pack can carrier, but Octopi has not run this configuration.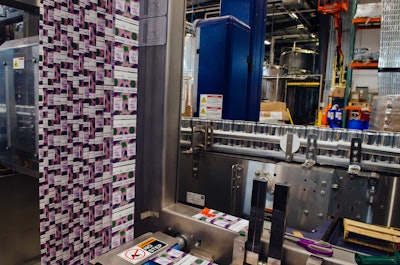 The DMM cartoner can run everything from a four-pack to a 24-pk, including six-, 12-, 15-, and 18-ct sizes, for each different can size (12-oz standard, 12-oz sleek, 16 oz, and 19.2 oz).
For tertiary packaging, another machine from DMM loads four-, six-, and 12-ct sizes into a tray. Larger sizes, such as a 24-pk carton, can be palletized without the need for a tray. According to Showaki, the majority of the larger packaging run by Octopi is a 12-pk size. A Diagraph TJ1000 inkjet printer follows, applying information including a UPC code and the name of the product on the side of the tray.
In the final step of the packaging process, trays or cartons are placed on a pallet using a low level-infeed row-forming palletizer, the TTL-30 from Top Tier, followed by stretch wrapping on the same machine.

Because Octopi tries to accommodate any job thrown at them from a customer, flexibility was key in specifying the equipment for the filling line. According to Showaki, changeover from a 12-oz standard to a 16-oz to a 19.2-oz can size is a fairly quick process, perhaps 30 minutes. Changing over from a 12-oz standard to a 12-oz sleek is a more complex affair, taking from one to two hours, depending on the pattern. "We try to run as much consecutively as possible before we have to change back sizes," he says. "We have a very talented scheduling team that helps us plan efficiently. But, because we say yes to everything, or as much as we can, we do a lot of changeovers."
A rigorous request to KHS
The move to the 350-can/min Innofill CAN C line in June 2019 provided Octopi with greatly expanded capacity for can filling, but Showaki says by late 2020, the company had already outgrown this line as well. "We're squeezing everything we can out of that machine," he says. "We're going to start running it 24/7 [up from 24/5]."
Long term, Octopi is working with KHS to design and commission another canning line, which is scheduled to be operational by Q2-2022. The new line will be supplied entirely by KHS and will be able to run seven different can sizes—the four currently run by Octopi, plus 150-, 200-, and 250-mL slim cans, which Showaki believes are the future of cans.
"We told KHS, we're going to send you an extensive list of packout options, because typically each count size has four to five different packout options. Then, you can multiply that by two," Showaki says. "We told them, we need all of these, and we need them all to run great, and we need a max speed of 1,200 cans per minute for a 12-ounce can."
---
---
The line will be anchored by a KHS Innofill Can DVD 92 computer-controlled, volumetric filler, followed by two seamers. One seamer will run 202 lids for 12-oz standard and sleek cans and 16-oz standard cans, while the other can run 200 lids for 12-oz slim cans—with no changeover required.
The line will be fully automated from depalletizing to palletizing, and will include a cartoner, a tray packer, and a packout machine. "The whole line will be automated to do changeovers, line changes, etcetera," says Showaki. "We want it to run fast, and we want to make sure it's reliable. We have extra machines to make sure the seam is correct and the packing is correct, because when you get that big, you don't want to be recalling a batch, because it could be hundreds of thousands of dollars."
The new line will be used in addition to the existing line, with the Innofill CAN C supplying product to those customers looking for smaller runs, for example 2,000 to 4,000 cases, and the Innofill DVD producing 10,000 plus cases at a time for customers wanting larger runs.
Building for the future
At the time of Packaging World's visit to Octopi, the company was in the midst of construction on an addition to its plant that will expand its current footprint from 60,000 sq ft to 160,000 sq ft. The addition will house the new canning line, as well as additional R&D and office space. With the expansion, Octopi says it will be able to grow its capacity from its current 3.5 million cases (250,000 bbls) to 13 million cases, or 1 million bbls in 2022.
The next phase will include the construction of a 200,000-sq-ft warehouse on land Octopi owns across the street from its plant that will allow the company to bring warehousing in-house. At the moment, it uses a third-party provider with 150,000 sq ft of space off-site.
In the last five years, Octopi has seen 100% Year-Over-Year growth, and Showaki anticipates the same in 2021. "We're still growing, we're still very malleable," he says. "We're not set in our ways. There's a 180-degree difference in what we did last year compared to what we're doing this year—it's completely different, but hopefully in a positive way. And that keeps us moving forward and becoming a much better company."
Companies in this article