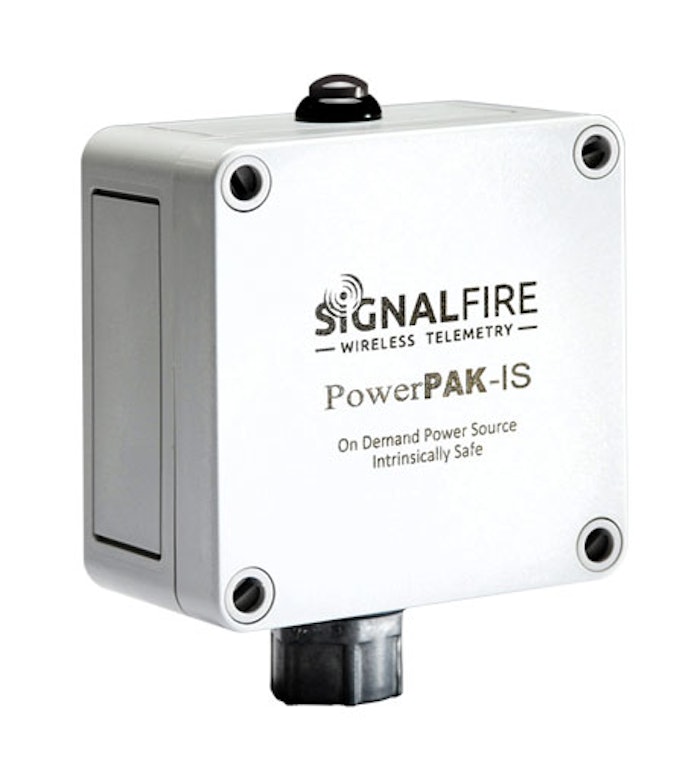 SignalFire Wireless Telemetry, a designer and manufacturer of industrial wireless sensors and radios, introduces the PowerPAK, an on-demand power source for 4-20mA and HART field instrumentation. The PowerPAK is made to address the need for localized instrument power for new and existing applications when power is not readily available.
The PowerPAK is Class 1, Division 1 certified and enclosed in a compact IP64 rated enclosure for industrial use, it is designed to supply the required field instrument power to remote-mounted or stranded devices. On-time power interval is made to be selectable for 1, 2, 5 or 10 minutes. Configured by dip switches, the power-on interval is meant to provide operational flexibility and extended battery life.
The device's long-life batteries are supposed to provide 4mA power for an estimated 350 hours of on-time. The PowerPAK is designed to require no software setup, it mounts to instruments, and is made to be universal, working with any device from any supplier.  Featuring push-button control, the device is designed to require no software configuration.
Companies in this article