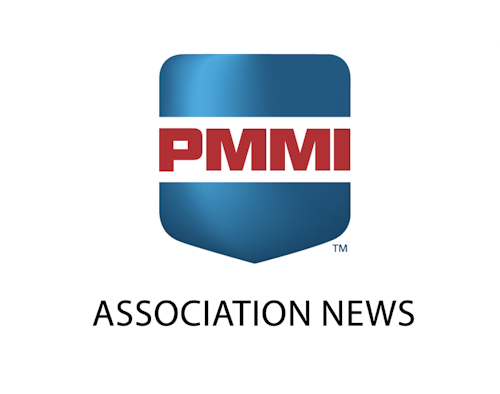 PACK EXPO International & Healthcare Packaging EXPO Rank 5th
Last October's PACK EXPO International and Healthcare Packaging EXPO in Chicago, ranked fifth in the 2018 Trade Show News Network Top 250 U.S. Trade Shows.
After a sixth-place finish in 2016, PACK EXPO International and Healthcare Packaging EXPO, moved up one spot in the rankings by net square footage, coming in at 1,249,751 net sq. ft. The biennial trade show focuses on the latest developments in packaging and converting machinery, materials, packages and containers and components, gathering the most prominent companies in the industry as exhibitors.
"The TSNN Top Trade Shows list is an all-star collection of the biggest and best exhibitions of the previous year, and we are proud to again be recognized among North America's trade show giants," says Jim Pittas, president and CEO, PMMI. "This honor is a testament to PACK EXPO's status as the premier resource for the latest innovations in packaging, an industry that is growing at a rapid pace."
The next installment in the PACK EXPO portfolio of trade shows is PACK EXPO Las Vegas and Healthcare Packaging EXPO (Sept. 23–25, 2019; Las Vegas Convention Center), which will convene 30,000 attendees and 2,000 exhibitors over 900,000 net square feet of exhibit space. For more information and to register, visit: packexpolasvegas.com
FROM THE BUSINESS INTELLIGENCE DESK
Robotics: A World of Opportunity
PMMI Business Intelligence's newly released industry research report "2019 Robotics - Innovation 2 Implementation" indicates many opportunities for OEMs to grow their business in a variety of markets: OEMs report robotic growth has opened up opportunities with old and new customers, added staff, increased revenues and helped them compete globally. More than half (53 percent) of companies are using robotics in primary packaging, 27 percent in processing operations, 70 percent in secondary packaging and 73 percent in transport packaging. Nearly two in three end users are operating robots working together on the same machine. Capital spending on robotics over the next 24 months is predicted to increase by 29 percent.
To download the full report visit:oemgo.to/robotinnovation
Four Best Practices to Improve Operations
Check out Business Intelligence Best Practices reports to ensure your company is on the right path:
2019 Engineering Best Practices –  this survey provides participating member companies with robust comparative data on packaging machinery companies' engineering departments, management, design practices, tools and workforce development.
2019 Education Workforce Development Best Practices – PMMI's most recent best practices on how to attract and retain top talent at your company.
2018 Millennial Purchasing & Trade Shows – Learn about a generation's non-traditional approach to a traditional industry event.
Download these reports by visiting: oemgo.to/businessintelligence
Eyes on the International Prize
Global Marketing will release five international packaging machinery market research reports including: 
Mexico Packaging Machinery Market Assessment 

China Packaging Machinery Market Assessment 

Thailand Packaging Machinery Market Assessment 

India Packaging Machinery Market Assessment 

Middle East Packaging Machinery Market Assessment
The reports come on the heels of 2018's Guide to Global Markets, Canada Packaging Machinery Market Assessment and Brazil Packaging Machinery Market Assessment.
For more information on International Research, the Trade Show Assistance program, the ExportEXPERTS
program, and the Directory of Agents, contact: Andrea Admana, global marketing assistant for PMMI at aadmana@pmmi.org.
Download these assessments at: oemgo.to/internationalresearch
WORKFORCE DEVELOPMENT
Recognize Your Rising Leaders
Do you have a young professional in your company displaying extraordinary leadership qualities? Recognize this individual's achievements by nominating them for PMMI's On the Rise Awards, produced by the Emerging Leaders Network. Winners will be honored at PMMI's Annual Meeting (Nov. 4-6, 2019; Cincinnati, Ohio) and will receive complimentary airfare, registration and hotel stay. Submit your nominations by Friday, Sept. 6 at: oemgo.to/ontherise
Find Your Next Great Entry-Level Employee at PACK EXPO Las Vegas
Connect with students and veterans pursuing careers in packaging and processing at PMMI's free, in-person career fair during PACK EXPO Las Vegas (Sept. 23-25). PMMI members can also post  internships and entry-level positions on the online CareerLink job board today! Find out more at careerlink.pmmi.org. Questions? Contact: Kate Fiorianti, PMMI senior manager, education at kate@pmmi.org.
Give Your Technicians the Non-Technical Skills They Need
Join PMMI U at Delkor in Minneapolis, Minn. on June 25-26 for a Fundamentals of Field Service Workshop. This unique workshop provides interactive training for field service technicians to teach them the non-technical knowledge and skills needed to be a great technician. Some of the things attendees will learn about include:
Communicating with different levels within  the customer's organization

Customer service and relations

How to deal with challenging customers

The importance of documenting service calls
Other upcoming trainings include:
Risk Assessment Workshop

Sept. 21-22; PACK EXPO Las Vegas

Fundamentals of Field Service

Sept. 23-24; PACK EXPO Las Vegas

Certified Trainer Workshops

Sept. 23-24; PACK EXPO Las Vegas
For information on registration or on hosting a customized workshop at your facility, please contact: Jane Tran, PMMI education program coordinator, at pmmiu@pmmi.org.
PMMI NEWS
Thompson Named VP of Tradeshows
Laura Thompson is the new vice president, Tradeshows at PMMI after previously serving as senior director, Expositions. 
A true "rising through the ranks" success story, Thompson began as the PMMI receptionist 20 years ago, fresh out of Baylor University. She received her first taste of the show department as the International expositions coordinator before a brief stint in Global Marketing organizing international pavilions for PMMI members at both PMMI and non-PMMI events. When PMMI took over complete ownership of EXPO PACK México, Thompson moved back into the Show Department managing the PMMI Pavilion and all show operations for the largest packaging and processing event in Latin America. Upon her promotion to director of Tradeshow Operations, all show operations in the PACK EXPO portfolio of trade shows became her responsibility. 
As Thompson's role expanded to the overall management of the PACK EXPO Portfolio of events as well as PMMI's contracting business PACK EXPO Services (PES), she was promoted to Senior Director, Expositions. 
"I am so thankful for the many opportunities I have been given to grow in my career at PMMI. It's very gratifying to see hard work pay off in opportunity after opportunity and I am truly excited for this next chapter as vice president of tradeshows," Thompson says. 
Thompson will lead the trade show team based in PMMI's Reston, Virginia office. Her responsibilities comprise PMMI's Show Department, all aspects of the tradeshows, serving as staff liaison for the Show Committee and managing PACK EXPO services.
Garibay Tabbed to Lead PMMI Mexico
Jorge Martinez Garibay has been named EXPO PACK General Director, directing sales, marketing, operations and public relations efforts for EXPO PACK México and EXPO PACK Guadalajara. 
"Garibay has experience in event management, and he has developed personal skills that have led him to conduct successful events," says Laura Thompson, vice president of Tradeshows, PMMI. "We are excited about him being a part of the team in Mexico."
Garibay comes to PMMI after holding a director title at IM Intermoda, a biannual international fashion trade show in Mexico, where he managed all aspects of operations of their 43,000 square meter exhibits.
Top 5 Reasons to Exhibit at PACK EXPO East 2020
Meet decision makers- Three out of four of attendees have final buying power or significant influence and 91 percent participate in purchasing decisions.
Develop solid leads- 44 percent of attendees are CEOs, general managers or senior management—and they come seeking suppliers for funded projects.
Get more quality time- Exhibitors benefit from ample time to discuss specific applications with prospects.
Reach a new audience- Nearly half of 2018 attendees had never attended a PACK EXPO event. Two out of three attendees are from Mid-Atlantic states.
Tap into new markets- Develop connections on the East Coast or expand into new market sectors—you can do it all at one show.
The PACK EXPO portfolio of trade shows roll on in 2020 with exhibit space filling fast for the fourth edition of the most successful regional show in the Northeast, PACK EXPO East (March 2-5, 2020, Pennsylvania Convention Center).
With less than a year until the show returns to Philadelphia, exhibit sales are up 27 percent, with a 38 percent increase in exhibitors signed on compared to the same time for the 2018 show.
Exhibiting at PACK EXPO East is the most effective place to build profitable connections with decision makers from consumer packaged goods (CPG) companies representing a wide variety of market sectors. The show's variety of exhibits, free educational offerings and proximity have a proven track record for attracting large purchasing teams and providing exhibitors the opportunity to build strong connections.
For more information on exhibiting visit: packexpoeast.com or contact: Beth Murray, exhibitor services and sales manager at 571-612-3186 or bmurray@pmmi.org.