Now, more than ever, packaging and processing professionals need solutions for the rapidly changing business environment. To ensure our industry remains connected during a time when the socially-distanced world has leaned heavily on the items it packages, PMMI Media Group brought together all of its digital marketing expertise and decades of extensive industry knowledge, launching a new live, web-based event like no other, PACK EXPO Connects 2020, Nov. 9-13.
PMMI Media Group began researching the best technologies and platforms in May, to ensure a one of a kind virtual packaging event. PACK EXPO Connects combines the power of PMMI Media Group and the PACK EXPO brand to drive participation by the entire industry and bring together decision-makers from both sides of the table—suppliers and end users from more than 40 vertical industries. PACK EXPO Connects provides suppliers with a virtual showroom for live demos, live chat with product experts, an easily searchable product database conveniently organized by 12 major categories, and more.
Live Product Demonstrations will connect exhibitors with attendees. These time-efficient, 15-minute, live demonstrations will allow attendees to check out what's new, ask questions, and engage with exhibitors in real-time.
All virtual showrooms on PACK EXPO Connects contain Automatic Lead Capture, eliminating the need for information exchanges that take the focus away from problem-solving.
Live 1:1 Chat will allow attendees to chat directly with exhibitors during dedicated event hours. If an attendee can't catch an exhibitor during the event hours, virtual business cards will help foster those connections even after the event's conclusion.
Comprehensive Educational Content will feature thought-provoking sessions from leading suppliers and industry experts on today's packaging trends. Attendees take the information gleaned from these sessions to enhance their knowledge before heading back into the virtual showrooms for specific solutions. All content noted will be available both as scheduled and on-demand after the event.
 In the months leading up to the announcement of PACK EXPO Connects, PMMI Media Group conducted hours—adding up to days—worth of end user interviews with some of the leading consumer packaged goods (CPG) companies in the world. These extensive in-depth interviews had one goal: To ensure PACK EXPO Connects represents exactly what the packaging and processing industry wants out of a web-based event.
Immediately, the number one request across the board was a desire not only to see live technology but also to have the ability to interact with exhibitors during the video demos of actual machines.
PACK EXPO Connects delivers the technology for exhibitors to conduct these interactive connections—complete with live chat features—resembling virtual Factory Acceptance Tests (FATs). These live video demos, coupled with the ability to interact with technical personnel and product experts, best mimic and fulfill the expectations and experience of an in-person event. This also reinforces the need for a collective group of exhibitors demonstrating technology in action like PACK EXPO Connects will offer. PMMI Media Group will provide educational videos for creating engaging demos and offer video specialists to walk exhibitors through the process if necessary.
Beyond experiencing technology in action, attendees want to spend their valuable time exploring new products, rather than existing products presented as new. PMMI Media Group solicited its in-house team of editors to vet what is and isn't new, serving as neutral industry experts. Together, they will help make sure that attendees are able to track down the latest and greatest offerings and the exhibitors that are presenting them.
Finally, attendees wanted engaging virtual exhibits. The research revealed that attendees are not impressed with fancy 3D renderings of booths on a computer screen. They want to quickly understand what products are available, see live demos, and connect with experts in real-time. As a group, participants revealed that they would prefer fully fleshed out web-based showrooms, complete with live feedback and interactions vs. simple listings offering a static encounter. In other words, they believe that developed, thought out virtual presentations are more worthy of their time, and indicate exhibitors striving to provide a full experience. PACK EXPO Connects has developed the package to ensure exhibitors deliver.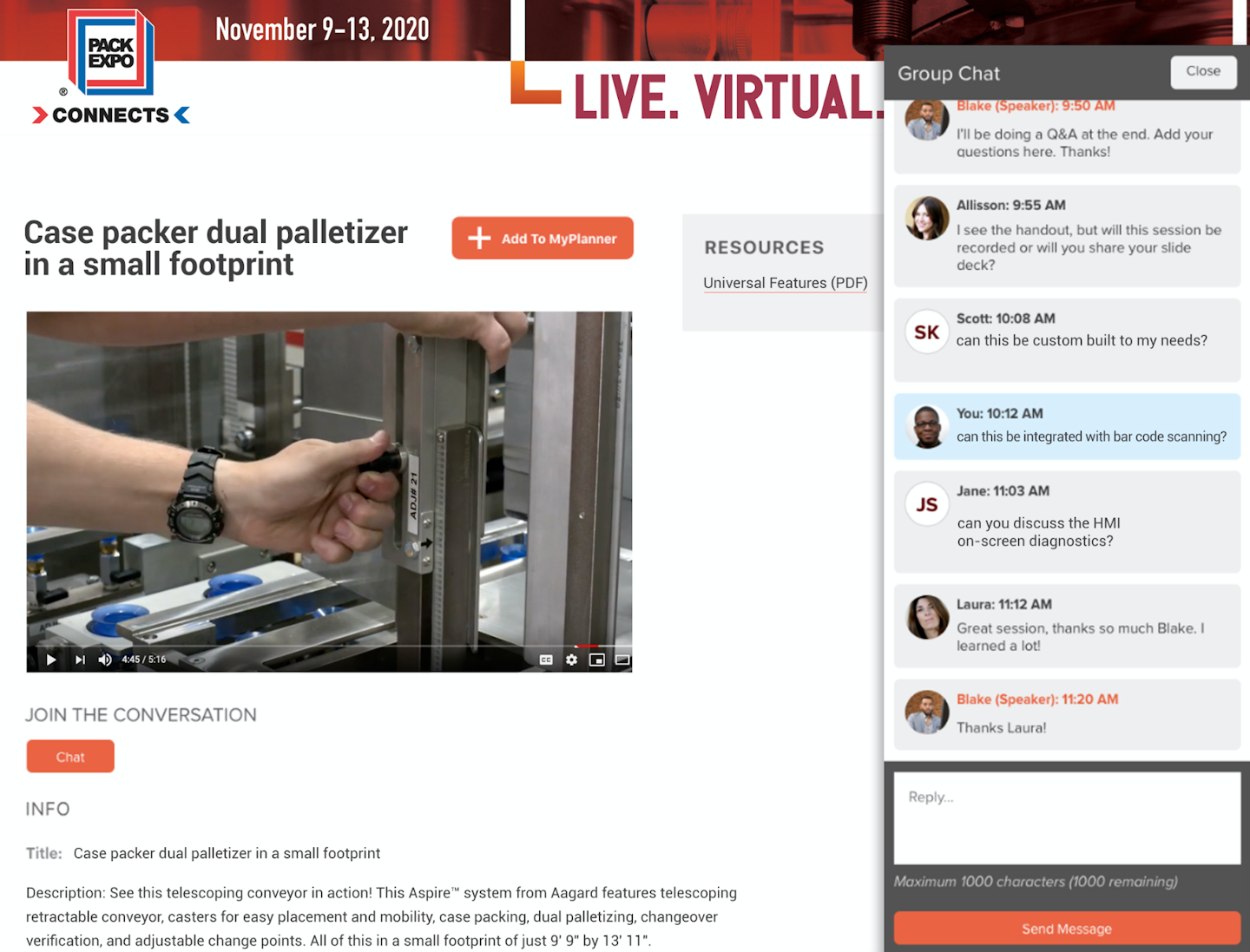 Preview Week is Nov. 2-6. This soft opening will allow registered exhibitors an early showcase for attendees to browse live demo descriptions, build their planner, and save items to Outlook calendars. Organization and pre-planning are the keys to success as there will be so much to see and experience at PACK EXPO Connects.
More about Automatic Lead Capture technology
A lead generates when an attendee:
Clicks on a demo to watch
Starts a live chat with virtual showroom personnel
Adds an exhibitor to show planner
Favorites a showroom, demo, or company product
Requests a private meeting
PACK EXPO Connects exhibitor checklist
Offer the maximum number of live demos. Attendees of PACK EXPO events seek technology in action more than anything else.
Ensure product experts are available during show hours to accommodate potential demand.
Provide access to technical people for virtual meetings and one-on-one chats.
Submit all featured products as early as possible to ensure attendees scheduling their week know what each showroom offers.
Marketing drives web-based events with a premium virtual booth package showing up higher in search results.
Get an edge on competitors by promoting to the PMMI database via PMMI Media Group promotion packages. Featured products will run in a special targeted listing in the Virtual Guide published alongside the October issue of Packaging World.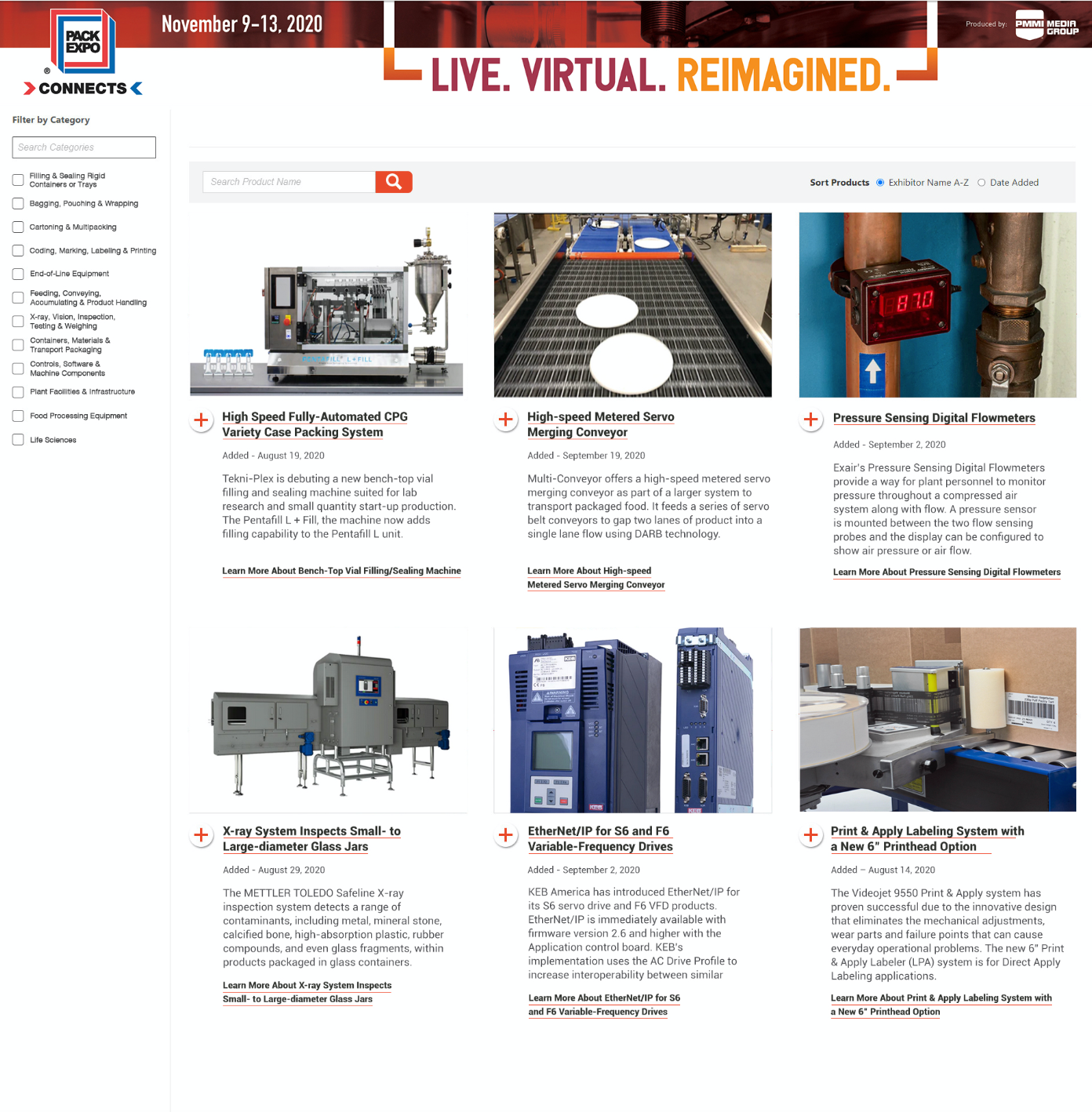 Top five reasons for exhibiting at PACK EXPO Connects
Experience a state-of-the-art branded Virtual Showroom. PMMI Media Group partnered with the leading virtual show vendor to fully integrate the features that customers want for PACK EXPO Connects.
Feed your sales pipeline. A massive, multi-channel marketing investment is driving the industry to PACK EXPO Connects, delivering CPGs and industry professionals longing for solutions and engagement.
Live demos. Every survey of end users and CPGs begins and ends with a desire to see actual technology in action. PACK EXPO Connects provides the guidance for exhibitors to broadcast live product or equipment videos and the ability for live interactions with virtual showroom attendees.
Live one-on-one chats. Attendee research confirms that next to seeing technology in action, buyers most want access to technical personnel. Scheduling product experts during exhibit hours provides a targeted venue to engage with high-value prospects.
Easy product search. With a simplified interface for uploading products and on-demand videos to Virtual Showrooms, buyers can easily search for solutions with the click of a mouse at PACK EXPO Connects.
The "musts" that make a compelling virtual showroom
To ensure the success of a web-based event, PACK EXPO Connects exhibitors need to put time and thought into the content uploaded to their online showroom as it is the first impression drawing attendees to their exhibitor profile. Here are six "musts" for every engaging showroom:
Searchable company descriptions
When creating company descriptions and "about us" sections, exhibitors must include keywords that are searchable for attendees. Attendees will be able to utilize search functions to find content that interests them, so including such keywords will help exhibitors stand out among the crowd. By investing the time to create thoughtful content, exhibitors will drive traffic to their profiles by increasing visibility within the directory search.
Include contact information
Attendees will navigate to exhibitor profiles and then reach out using the contact information that is located in the exhibitor showrooms. Exhibitors must provide contact information for as many virtual business cards as possible and include phone numbers, emails, and any other contact information. By doing this, attendees will be able to easily get in touch with exhibitors since they are not permitted to connect in person.
Chat, chat, and more chat
To connect one-on-one with attendees through chat, exhibitors who have a virtual business card must be logged in to their planner accounts. Create planners ahead of the actual show and have at least one contact online and readily available during show hours. This will increase the likelihood of creating connections that will last beyond the event.
Polished images and videos
Exhibitor profiles include upload options for images and videos. Professional level content is not necessary, but exhibitors must consider proper lighting, clean backdrops for images, and quality sound and content for videos.
Social media
Social media is a great resource for connecting individuals, especially during a virtual event. Exhibitors must link out to their social media pages from their showroom and post announcements and helpful information on social media during the event using the official event hashtags.
Live demos
Live demos are a must as exhibitors can interact first-hand with attendees that are interested in their products or services and acquire valuable leads. Exhibitors will have the opportunity to showcase their latest products, interact with a live Q&A session, and even offer exclusive show specials to keep attendees engaged.
PACK EXPO Connects – November 9-13. Now more than ever, packaging and processing professionals need solutions for a rapidly changing world, and the power of the PACK EXPO brand delivers the decision makers you need to reach. Attendee registration is open now.