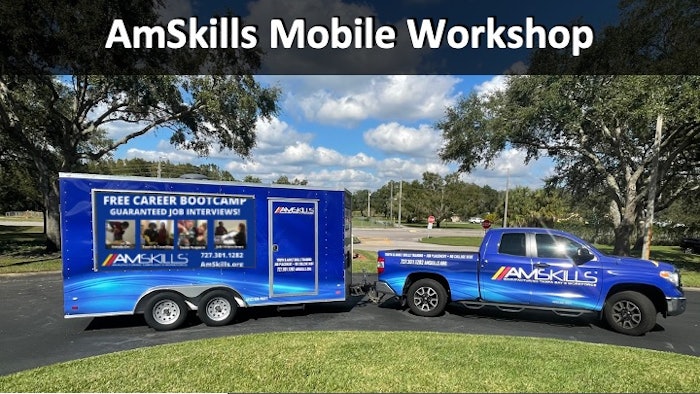 When it comes to learning a manufacturing skill, the hands-on experience is, hands down, the best approach. Getting a diverse group of people interested in a career in manufacturing is, on the other hand, an enormous hurdle.
But one Florida organization has taken a creative approach to recruiting that could not only solve the industry's skills crisis, but could change lives and strengthen communities as well.
AmSkills, Inc., a 501c3 non-profit organization as of 2017, was created to help local manufacturers employ more skilled tradespeople. "But we take the approach to focus first on the person, and that results in filling jobs," says Tom Mudano, AmSkills' president and CEO, noting that recruitment is one of the most difficult things to do in the manufacturing industry.
According to a 2016 survey of local colleges by the Florida Chamber of Commerce, the majority of local employers felt that the college graduates that interviewed for manufacturing positions were unqualified for the job. Furthermore, more than 22% of students in the Pinellas, Pasco, and Hernando counties in Florida don't graduate from high school.
Many of these people are a perfect fit for manufacturing careers—they just may not know it until they try it. People like Daniel, who, Mudano explained, was working at a golf course and decided to participate in the AmSkills Career Discovery Bootcamp and is now employed as a production assistant for a local manufacturer. He knew he liked working with his hands but had not considered manufacturing until he completed the AmSkills program. Not only is Daniel working for a local manufacturer, but he has also completed one PMMI Certification in Fluid Power, is currently enrolled in the AmSkills PLC Training Program, and is a potential apprentice candidate.
The personal approach
AmSkills set out to provide 80% hands-on skills training to youth, adults, and veterans, providing both technical and life skills training that will translate to a long-term career at local manufacturing companies.
This "recruit, train, sustain" operation comes in a few forms. For high schoolers, students are recruited for a hands-on one-day workshop where they are building something as a team. Interested students are then invited to attend the AmSkills High School Pre-Apprenticeship program, designed for juniors and seniors and currently conducted at schools in two counties.
AmSkills provides curriculum, technical instructors (machining, mechatronics, robotics), and equipment, funded through grants from the Department of Education and other sources. The training replicates the real world with time clock tracking, hands-on skills training, and job preparation. Upon successful completion, pre-apprentice candidates may be offered paid jobs or apprenticeships from local manufacturers.
---
---
As part of the program, students are reading blueprints, measuring, using hand tools, working on computers, doing writing exercises, using virtual reality to test out different jobs, going to plant tours, and working side-by-side with manufacturing and human resources professionals.
For adults, the AmSkills Mobile Workshop travels to multiple locations to set-up temporary training centers to conduct a one-day Manufacturing Production Workshop, followed by a two-week Career Discovery Bootcamp. Candidates participate in tours to local manufacturers, complete multiple hands-on individual and team projects, prepare their resumes, complete mock interviews, and are introduced to a variety of careers in the manufacturing industry through lunch and learns conducted by local participating manufacturers.
On the second to last day instructors provide competency assessments to participating employers that evaluate participants' technical and soft skills, from punctuality to completion of assignments, in preparation for guaranteed job interviews with multiple employers on the last day of the bootcamp.
"We will not conduct the bootcamp unless we have multiple hiring manufacturers within a 20-mile radius, providing the participants job opportunities and employers a pipeline of vetted candidates," Mudano says. The program has been so successful that it is being looked at by other cities and states across the country. "We created this model to be replicated and recently won another grant to roll this out in Dallas, Texas."
Following the bootcamp, candidates can participate in the AmSkills Adult Pre-Apprenticeship or Apprenticeship Programs. The curriculum in advanced courses cover machining and mechatronics, the latter of which is based on the PMMI mechatronics certification tests which are nationally and industry accepted and endorsed by the National Association of Manufacturers' Skills Certification System.
According to Viggo Nielsen, the former general manager at Mettler-Toledo Safeline in the Tampa area who is on the AmSkills Board of Directors, this program is a win-win-win. "Attendees win, communities and counties win because we are [recruiting] people who otherwise may be having a hard time providing for themselves into an active role in the workforce, and of course the employer wins," he says.