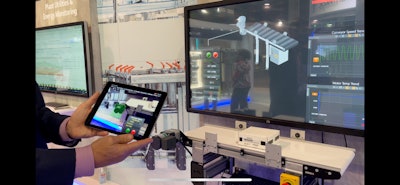 Emerson, a software, technology, and engineering specialist, highlighted its augmented reality option which runs on its Movicon SCADA platform and allows operators to control the equipment through an iPad or augmented reality device and get metrics on that equipment. This system reduces downtime, making the troubleshooting process easier as operators determine the issues with the machines through the HMI on the iPad.
Charlie Emerson, industry marketing, Emerson, said: "Operators will no longer have to run between an HMI and where they think the problem might be. They can walk around with the HMI directly in their hand or directly in their field of vision."
The company also showcased its smart sensor technology for compressed air monitoring which was recently implemented at a global consumer packaged goods (CPG) company to reduce wasted energy in its product packaging, using Aventics AF2 Smart Flow pneumatic sensors and IIoT-enabled software architecture. This allowed the CPG to monitor compressed air flow in real time and identify leaks. Thus far the smart technology implementation has resulted in a 15% reduction in energy usage on several packaging lines, with even greater energy savings expected as the technology is rolled out more widely. Data gathered by the flow sensors was then summarized and stored in Emerson's industrial PC platform, which then sent the data to the cloud for deeper analytics.
Furthermore, the Aventics Series 652/653 air preparation units, now able to integrate with the Aventics Series AF2 flow sensors, are providing expanded capabilities to improve packaging line efficiency and overall equipment effectiveness (OEE). The integrated system allows operators to monitor air consumption—including flow, pressure, and temperature—and detect leaks and optimize energy use. The system provides alerts that enable the appropriate personnel to address early-stage leakage and perform preventative maintenance before issues arise; it is easy to assemble and install and can retrofit on existing machines with few changes.
Companies in this article