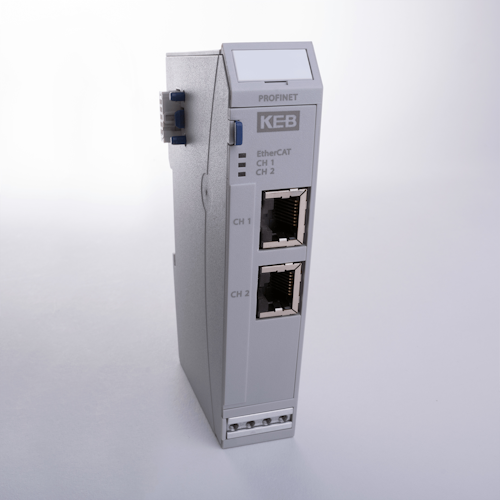 KEB America has launched a new Ether-CAT Multi-Fieldbus Interface (MFI) for its controllers. Users will be able to easily connect KEB's multi-axis controller with an existing whole-machine PLC solution without abandoning existing fieldbus integrations. For example, users can choose to develop a machine accessory using KEB's EtherCAT-based controllers and I/O modules and then connect it to an existing machine, using only one module.
The MFI, a new addition to KEB's EtherCAT I/O module series, is an EtherCAT slave device that provides a gateway connection to a second fieldbus interface. It is available as an EtherNet/IP adapter, a ProfiNet I/O device, and a Powerlink slave. The MFI interface allows the user to join two fieldbus networks and exchange up to 300 bytes of data (per scan) seamlessly between them, according to the company. The module works with all of KEB's modules including EtherCAT digital, analog, relay, counter, safety, and stepper motor control modules. It is DIN rail mountable and connects directly to KEB's remote I/O EtherCAT backbone.                   
Programming time is kept to a minimum because it does not require platform specific programming of existing solutions. Users are able to develop motion solutions independent of the final user's target platform and simply select the MFI that links the KEB EtherCAT control platform to the required PLC platform. The interface is CE and cUL compliant to ensure conformity to market specific regulations.