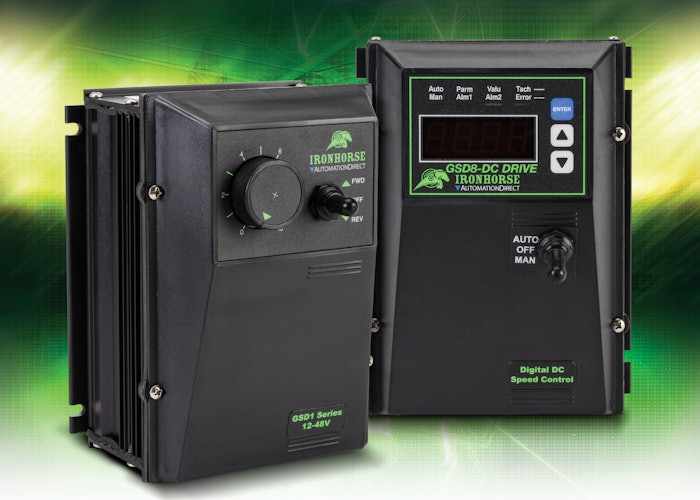 AutomationDirect, a distributor of industrial automation products for electrical control systems, introduces its IronHorse GSD8 series of DC drives, a microprocessor-based design made to have non-volatile memory storage that is programmable with adjustable parameters, programmable alarm outputs, and offer a digital closed-loop algorithm for motor control.
GSD8 output power available is:
1/2 to 1hp at 120 VAC input

1 to 2hp at 240 VAC input
Output voltage is:
Maximum current ratings are 5A and 10A.
GSD8 series DC drives are designed to be capable of factory or field configurations for a variety of industrial applications. GSD8 DC drives are meant to make use of either a pulse accumulation algorithm or a velocity PID algorithm that can be configured for operation as a speed controller, time-based process controller, or follower drive in a master-follower application. This makes them a good match for applications that require specialized I/O, says the company.
All units are made to include a large 4-digit LED display; standard 1/8 or 1/4 DIN panel mount versions are available. The GSD8 universal power supply is designed to accept 85-265 VAC at 50-60 Hz without switches or jumpers and a self-contained 5V power supply to be provided for external sensor power.
IronHorse GSD8 Series DC drives from AutomationDirect start at $405.00 and are backed by a one-year warranty.
Companies in this article