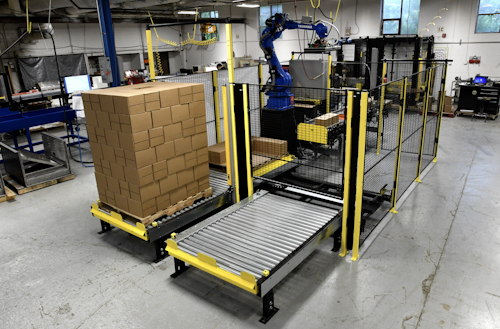 With the acquisition of Lambert Material Handling (formerly Lamson) in 2014, ARPAC, based in Schiller Park, Ill., began offering a range of conventional and robotic palletizing solutions. For the past six years, the OEM integrator and end-of-line equipment manufacturer has turned to Yaskawa America's Motoman Robotics Division to source robotic components for its palletizing cells. But recently, ARPAC got the opportunity to go beyond the average OEM and supplier relationship to provide critical design parameters for Yaskawa Motoman's new robotic palletizing software. 
A fruitful partnership
Two years ago, Yaskawa Motoman asked ARPAC for feedback when the company began developing PalletSolver, a software engine that automatically configures a complex palletizing system using menu-based inputs without the need to program lines of robotic code.
"We were a beta site for Yaskawa and we had a lot of feedback from our engineers who were crawling all over this new software," says Brian Ormanic, applications engineer at ARPAC. "We got the opportunity to assist them on vital palletizing aspects, and we informed them about all of the different parameters we face daily. We were able to help them build the functionality we needed into PalletSolver."
The PalletSolver software then became a very dynamic interaction between the ARPAC and Yaskawa teams with several iterations of features, adjustments and add-on capabilities. 
"We know some other robot manufacturers have similar software, but I think [Yaskawa] took a fresh look and approach to PalletSolver. And they added in some key benefits that we wanted to latch onto," Ormanic says.
One of those benefits was the ease of programming. The software allows ARPAC's customers to program a robot without having a dedicated robot programmer on the team. Learning to program can be time consuming and expensive, and most robotic components require operators to have a programming background. Each time the robot picks and places, it changes trajectories and elevation because of where it is placing cases on the pallet. Without PalletSolver, a programmer would have to code all of the sequential pick and place motions. 
"From an integrator standpoint, the software eliminates the repetitive programming demands because all of those program pass planning trajectories are optimized and pre-programmed in the software," says Jack Uhl, sales manager for Yaskawa. "The software reduces costs associated with developing, it reduces hours of programming time and it can also result in a lower total cost of ownership."
The PalletSolver's PC configuration software is used to add or modify system configurations and pallet patterns, and once patterns are configured, the program is downloaded to the robot controller for use. This allows the operator to test out the path to ensure the configuration works without crashing.
"The software shows a series of screens that prompt users to configure the palletizer cell, starting with the sizes, and then it automatically looks for the patterns that will fit the most product onto the pallet. That's the name of the game because you don't want to waste any space on the pallet," Ormanic says. 
The software can also speed changeovers by optimizing constraints associated with cell stations—such as distance between pallets or infeed stations and interferences with neighboring objects or other build stations—ensuring maximum production, Uhl says. 
Software interface replaces the PLC
Prior to using PalletSolver, ARPAC used a PLC to control the entire palletizing cell. The new software not only handles the programming, but it's also capable of turning on conveyors, communicating with safety systems and it includes a user interface screen that acts as an HMI. 
"We took a radical approach and decided to drive everything through the robot controller," Ormanic says. "By doing so, we were able to eliminate the PLC, a separate electrical cabinet and the HMI." 
Ormanic says it was a priority to build flexibility into the software for future inputs and outputs, allowing them to add another conveyor or a flip station to the cell in the future. The flexibility also helped them ditch the PLC.
ARPAC breaks into a new market 
ARPAC has included PalletSolver with its full-size, heavily customized palletizers that include an automatic stretch wrapper and can stack as many as 40 products per minute. But ARPAC recently noticed a need in the market for low-speed palletizing applications—15 products per minute, or less. 
"We were tapping into a new market and providing new technology in a robot, as opposed to the older mechanical palletizers," Ormanic says. "We knew there were low-level, conventional palletizers from companies that have been selling them for decades at a certain price point that we couldn't hit with our fully engineered systems. So, we streamlined a smaller system into a very standard, pre-engineered and low-cost machine."
During PACK EXPO International 2016, the OEM launched the ARBOT-LT, a pre-engineered, low-cost palletizer equipped with PalletSolver for smaller end users that want to automate their palletizing operations. And, the company sold the first one off the trade show floor.
"The customer is very happy with it. It's low-cost, it includes robots and it gives them flexibility," Ormanic says. "They are a small manufacturer, so it's like a show piece for them. They are excited to show their customers that they are using robotics and new technology, and it will help them sell more to future customers."
Out of the orders ARPAC recently received for ARBOT-LT, one was from a large food company that has 12 lines that are being palletized and stretch-wrapped manually over the course of three shifts, non-stop. 
"It was pretty profound for them. They actually had a small integrator build a robot palletizer and it didn't work very well," Ormanic says. "We got in there and took a totally different approach. We paired two cells with one automatic stretch wrapper, and used an electric transfer car to move pallets back and forth."
ARPAC provided palletizing cells for four of the customer's 12 lines to test out the solution. Ormanic says that trial period went so well that the end user has asked ARPAC to install four more palletizing cells.
"PalletSolver has been yet another positive and collaborative example between ARPAC and Yaskawa Motoman," Ormanic says. "We appreciate the continued opportunity to expand new technologies and products for the benefit of our mutual customers, through the strong partnership that our companies have built together."
Companies in this article