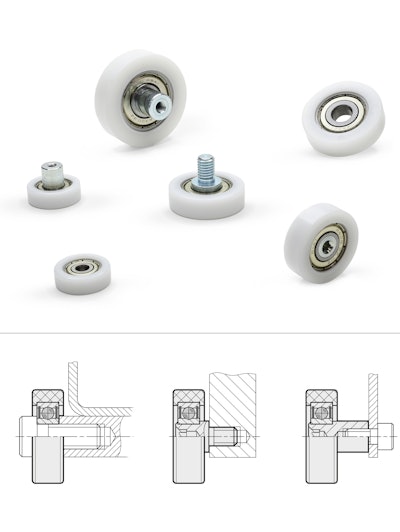 With its entirely new design, JW Winco's GN 753.1 guide rollers have a deep groove ball bearing of hardened roller bearing steel. The bearing features permanent lubrication and a typical 2Z seal to protect against dust and dirt. In other words, the bearing is covered on both sides by metal disks.
The outer race of the ball bearing is embedded in the POM plastic of the guide roller during the molding process. Each roller is machined to precise dimensions for an exact runout, which makes cylindrical and convex shaping of the running surface possible. Convex rolling surfaces compensate for alignment errors by preventing them from running on corners or edges.
The rollers can fasten via the smooth bore of the inner bearing race using a typical socket cap, shoulder screws, or through a permanently riveted bearing pin, designed either with male or female thread. Both types of bearing pins are fitted with Torx drives to ensure optimal transfer of the tightening torque.
Companies in this article