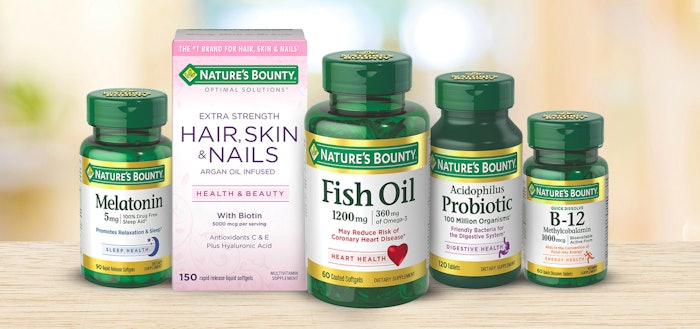 NBTY is one of the largest nutraceutical manufacturer in the U.S., with many recognizable brands like Osteo Bi-Flex, Nature's Bounty, MET-Rx, and Pure Protein Bars. With such a diverse array of offerings involving a series of different processes and packages, Scott Spencer, VP of engineering, and his team deal with a wide variety of product types, including soft gels, tablets, capsules, ready-to-drink beverages, and essential oils for aromatherapy. While the nearly 45-year-old former mail-order company is headquartered in Ronkonkoma, N.Y., it employs more than 11,000 employees at facilities across the country. 
In addition to engineering, Spencer is responsible for the maintenance and safety organizations at NBTY. Just as his role is unique, so too is the world of nutraceuticals in that it includes aspects of food, beverage, and pharmaceuticals, as well as each market's different regulations.
Traditionally, nutraceuticals are more regulated than food but perhaps not as strictly monitored as pharmaceuticals.
"FSMA [The Food Safety and Modernization Act] is going to make food regulations harder for people, but when it comes to [other verticals] like pharma, the regulations in food are nothing in comparison, and we lie almost exactly in between," Spencer says.  
As a by-product of lying "in between," some issues arise when choosing equipment that is designed for pharmaceuticals.
"I can't pull from a lot of pharma equipment because of its high-volume design for low SKU counts that run five days a week, 24 hours a day," he says. "We use a lot of similar equipment, but I have packaging lines that will change over three times in a shift; not a day, but in a shift. I need that flexibility, and that takes a supplier spending the time with my team to understand our business and not give us their boilerplate quote."
In today's world of "we want faster, more flexible, more affordable, and oh, by the way, we needed it yesterday" mentality a good partnership between supplier and customer is critical. It's probably fair to say that an overwhelming majority on both sides of the table would list this as one of the top things they are looking for out of their business relationships. Spencer is no exception, describing that component as more of a "need" than a "want."
"I know my company is not perfect, and there are going to be changes to a request for proposal, modifications, all those types of things, so I'm looking for a partner to work through those challenges," he says. "I've had the benefit of developing relationships with partners throughout my career that may have begun three jobs ago. I still do business with and interact with these suppliers because trust is essential."
Beyond strong partnerships, Spencer has a more specific requirement that he would like to see OEMs begin incorporating into equipment deals, and it goes beyond the exchange of money and delivery of goods. He describes a possible disconnect between what happens once the factory acceptance test (FAT) is complete and the new machinery is up and running. 
"There's a big difference between a four-hour training session at installation time, and the continuing education and documentation that's required to run that equipment," he says. "There's a big difference between designing equipment and running it for a three-shift operation, 24 hours a day, six days a week. It feels like sometimes suppliers don't understand how their equipment is used in the production environment." 
He suggests a more collective focus on operability and maintainability. He considers this factor part of the service piece.
"When I'm buying a piece of equipment, I'm not just buying the equipment. I'm buying 20 years or more of operating and maintaining that piece of equipment," Spencer says. "The kind of service I'm looking for isn't just, 'I can call you, and you'll ship me a part really quick.' It's not just that you have a 24-hour technician. It's more about when you deliver that piece of equipment, what are you delivering to me besides the piece of equipment?"
Because of this, he thinks training remains a significant pain point between OEMs and customers, and provides a recent exchange with a supplier as an example.
"I was just at a vendor last week, and they were demonstrating a beautiful piece of their equipment that looks like it will meet a lot of our needs," he says. "The changeover is listed on the HMI, and it says, 'Remove this piece and then click continue,' and so on and so forth. A very slick, recipe-driven changeover."
Immediately an NBTY operator who accompanied Spencer saw the potential for problems. 
"He told the vendor, 'We're going to have to label all of those change points with numbers, so that people don't need to go back and forth to the HMI to do a changeover,'" Spencer says, explaining that 10 different operators may need to change that piece of machinery over in a given day.
"Training is more about preparing the operations and maintenance team to operate and maintain that equipment in our environment."
Spencer is quite candid in other areas he feels OEMs could improve their relationship with end users. In some cases, he thinks OEMs have assets at their disposal that they are not fully taking advantage of, while also holding the controls to lead-times that could influence purchase orders. 
"The FAT tool from the OpX Leadership Network is a free tool OEMs can bring to customers as a service because you don't really know how well-prepared they are to receive your equipment," he says. "You could have a young engineer; you could have a company that isn't very mature. If you received it as part of your equipment, then that's another service that gives a supplier an edge over someone who doesn't think that far ahead."
Another edge that OEMs might want to investigate is shortening the window from purchase to delivery. Spencer is not sure he has a solution, but the current landscape is not working for some end users.
"The lead times for equipment are really getting out of hand. I could be wrong, but I feel since the recession, lead times have just skyrocketed, and in my business, that's a killer," he says. "Every single project, we're dealing with six- and nine-month lead times."
With an industry like nutraceuticals, he cannot think of any project where NBTY would be willing to wait nine months for a machine. This is especially so as research indicates that consumers are driving retail more than ever before.
"It's just a matter of today's business. You can read any article you want about retail personalization, and consumers want what they want when they want it," he says. "If I've got to wait six months to give it to them, I lost a customer."
This creates a situation where some equipment is purchased solely on the OEM's ability to produce it promptly. Spencer shared a recent example involving a cartoner.