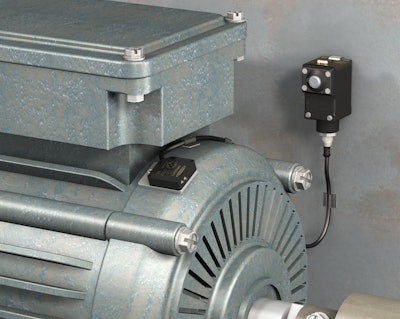 Banner Engineering, a provider of technology for industrial automation, debuted its wireless condition monitoring solution with machine learning for more intuitive predictive maintenance.
The QM42VT wireless vibration monitoring sensor from Banner continuously measures RMS velocity, high frequency RMS acceleration and temperature. This enables the sensor to identify machine problems before they become severe and result in unplanned downtime. It also allows facility managers to plan maintenance more efficiently and reduce labor costs by eliminating manual checks.
Using a proprietary machine learning algorithm, Banner's condition monitoring solution collects data from the sensor to establish a machine's vibration baseline and automatically set warning and alarm thresholds.
When a threshold has been exceeded, the wireless node can provide local indication, send the vibration and temperature data to the gateway for long term collection and analysis, and send a text or email alert. The solution serves as a simple "check engine light" for machines; however, data on a variety of vibration characteristics can also be collected over time for more in-depth analysis of machine performance.
The wireless vibration and temperature sensor is ideal for a variety of machine monitoring applications, including motors, pumps, blowers and many other types of machines throughout a facility.
Manufactured with a robust zinc alloy housing, Banner's wireless vibration and temperature sensor provides reliable performance in harsh environmental conditions. The sensors can be easily mounted using a standard bracket, a magnetic bracket or a two-sided thermal transfer mounting tape to accommodate diverse applications.
Companies in this article