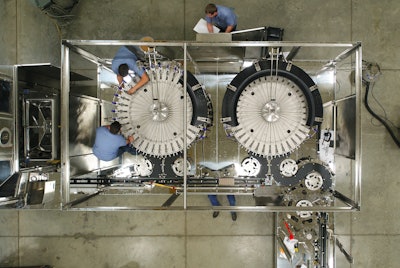 The beverage industry has experienced rampant change as disruptive products create the need for unique packaging and manufacturing solutions. But Fogg Filler Company, Holland, Mich., a maker of rotary filling systems for the liquids industry, prides itself on continuous improvement, which has positioned the third-generation, family-owned company to evolve alongside the industry.
When Fogg first started, its business plan was to fix old fillers from any brand, and then re-sell them. Over the years, it evolved into building and creating its own "Fogg filler." Now, Fogg offers several up-stream and downstream pieces of equipment besides the filler, such as sanitizer skids, rinsers, cappers, cap sorters and cap elevators—to name a few.
But the company is not stopping there. Fogg Filler is embarking on a few more ventures that are not only uncharted territory for the extended shelf life (ESL) equipment manufacturer, but a testament to its dedication to continuous improvement and adapting to industry trends.
For example, in February, the Fogg team gathered to share its findings from their attendance at KombuchaKon, a tradeshow revolving around kombucha, the fermented, sweetened black or green tea drink. Kombucha has been around for hundreds of years, but the product is becoming more mainstream, causing a need for more rapid production from—typically—small kombucha breweries. When a kombucha brewer told Fogg they should visit the convention to test the waters for automation, the OEM jumped at the opportunity. This new venture comes at the perfect time for the company as it recently added carbonated filling solutions to its equipment offering—which is the type of fill kombucha needs.
Two years ago, in response to the rapid growth of the craft brewing segment—similar to kombucha—Fogg's customers began requesting that the OEM explore carbonated filling capabilities, because at that time the company only served the still liquid market.
"We gain our initiatives from our customers," says Susan Lamar, Fogg's media relations manager. "We take the time to ask what they like about our machinery and where they see room for improvement. A lot of our customers are willing to test out new technologies in real-world applications, which helps us perfect our new ideas."
When the company started exploring how they could break into carbonated filling, they considered spending a couple of years doing R&D, but decided to partner with a carbonated filling OEM to expedite the process. The two OEMs co-design the carbonated fillers, then Fogg adds its signature aesthetics and builds in customer-requested specifications and capabilities.
"This partnership is very valuable to us because without them, we would have had to start from zero. The market is here, it's now, and we wanted to get in before the opportunity passed," Lamar says. "We take our partner's years of knowledge in the carbonated world and add it with our knowledge in the still world and what we know our customers want and expect from a Fogg filler."
Fogg has installed four carbonated filling lines that can produce anywhere from 50–400 bottles per minute since they first started offering the equipment two years ago.
New segment presents unique challenge
Among those new lines is Fogg's first kombucha filling line, which was installed in February. But because kombucha is bottled along with the symbiotic colony of bacteria and yeast—used to ferment the drink—it presented another challenge to Fogg and its customer: Skipping the sanitation step.
Kombucha needs to be filled cold and lightly carbonated to balance the different Ph levels of the drink to keep it shelf stable. Lamar compares it to the hot fill application used for apple juice, which is quite the contrast.
"Apple juice is generally filled hot, so the heat of the juice sanitizes the bottle, and then the machine tips the bottle upside down to sanitize the cap," Lamar says. "But kombucha is very different because they don't want anything rinsed, they want all the live, active organisms and bacteria in the drink, and they don't want the bottle to be sanitized."
Keeping pace in new territory
While growing in popularity among consumers, federal regulations around kombucha are still murky since the beverage can have an alcohol level depending on the amount of time it ferments. Since Fogg also fills other liquids like milk, which are—on the other hand—heavily regulated, the OEM recently created a new position called the continuous improvement manager. The person in this position is responsible for researching and studying changing regulations in the beverage and pharmaceutical industries so the OEM can keep up.
"Meeting government regulations drives us to design in a specific way to meet all of those special rules," Lamar says. "This new position allows us to thoroughly make sure these validations meet the customer's requirements and adhere to government regulations."
The continuous improvement manager will also focus on building a validation standard and process from the selection of the organism through the verification of the data at the end. But there are challenges with defining success in ESL, says Fogg's owner Ben Fogg, because each end-user company puts its own validation process together, making it difficult to manage through all of the expectations in the industry.
"Historically, we've been a consultant on the validation process and a critical piece of actually getting it done, but we've never been in control of the process," Fogg says. "I see a lot of customers wanting that control to shift to us and for us to own the process as a sub-project. In the future, I actually want to have a validation team that would come out and certify the equipment in the customer's plant, and give them a certificate that shows it's certified against Fogg, and it meets validation criteria. It's a huge undertaking. I don't know of anybody in our market segment that's non-aseptic that does something like this."
A different take on service and support
Along the lines of building lasting relationships with its customers through initiatives like validation certification, Fogg strives to go the extra mile when it comes to service and customer support. Instead of having support technicians scattered around the U.S., Fogg sends its technicians who build the equipment out to customer plants to service the machines.
"When a technician builds a machine, it becomes their project, and then after they are done building it, it's their job to go install it and service it," Lamar says. "These technicians are the ones who intimately know these machines inside and out. We don't have service techs that just do service because they are always gone and out of touch with what's new and changing here in the shop."
Because no two Fogg fillers are the same, this approach to service and support not only allows Fogg technicians to create a relationship with customers, but machines are also commissioned faster and it mitigates downtime.
"Every machine has its specific uniqueness that these technicians know and understand," Lamar says, noting the company never runs into a problem where a service technician gets out to a customer plant and says, "I don't know how to fix it, I didn't build it."
Building culture is about the people
Another revolving piece of the OEM's business that's currently top of mind is the upcoming generational workforce shift. Fogg says the number one factor that sets the OEM apart from its peers and competitors is its people, and how the company goes about selecting them.
"We're a very unique group of people here, and each person has been carefully selected to be part of the team," Fogg says. "When hiring, we really focus on the individual, who they are, how they work and how they interact. If they have the right mentality and work ethic, but lack the skill set that we need, we train them, instead of hiring the skill set and dealing with the individual that comes along with it."
By hiring for personality and training employees to the company's desired skill set, the OEM has created a culture and an environment that works like a well-oiled machine.
"I really try to focus on far more than just the product," Fogg says. "When a company buys a Fogg filler, they aren't buying an asset, they are buying emotional stock in an organization, and my team is going to be there to support them."
But many of the OEM's employees have been with the company for more than 20 years, which means Fogg has had to continuously adapt its culture to accommodate the incoming millennial generation.
Growing with the new generation
If you took a tour through Fogg 10 years ago, you wouldn't recognize it. While its equipment is always evolving, Fogg says the overall corporate culture is changing at a more rapid pace. Three years ago, the OEM invested $2.5 million in a novel redesign of its entire facility to include a more entertaining breakroom, a robust kitchen and eating area, and conference rooms decked out in changing LED lights and tables made to look like filling equipment.
"We're trying to stay ahead of the times, and be ready to engage, accept and prosper with the millennial generation," Fogg says.
Fogg's focus on culture recently landed the company a young engineer who graduated from a top college with a 3.99 GPA. She had many offers from companies in different industries, but selected Fogg as the place to start her career.
"Our HR manager asked her why she chose us out of all of her other options, and she said, 'Because this company remembers my name, and I feel like you guys know who I am, and I know I will fit in here,'" Lamar recounts.
Evolving into three businesses
Looking ahead, the company will continue to expand its carbonated filling capabilities and plans to take the kombucha and craft brewing segment by storm. But aside from its new filling products, the company is also focusing on two separate businesses it created under the umbrella of the Fogg Filler brand.
For the past eight years, Fogg has been developing, testing and implementing its own Enterprise Resource Planning (ERP) system called Counterpart through Smooth Logics, a Holland, Mich.-based affiliated ERP software development company. Other ERP systems on the market were not a perfect fit for the company, says Fogg, which is why he decided to invest $10 million into creating its own program from the ground up. Fogg started selling Counterpart to other OEMs in January of 2016 after it saw the ERP system improve so many of the company's processes.
"Despite having the busiest organizational growth year and the highest gross sales in our history, we can still maintain a high-level of support without chaos," Fogg says. "When you walk through the shop, you see a quiet, clean and efficient facility, and you'd think, 'There's no way this company is growing.' But this is a well-oiled, 100 year-old-machine. By using Counterpart, I see the company being able to build products smarter, faster and better."
The ERP system, which streamlines data integration for custom engineering firms that are using Dassault Systemes' SolidWorks, has given Fogg more visibility and has saved the company critical time and productivity throughout its entire manufacturing operation.
"In a custom-engineered product, the highest expense and hardest department to make efficient is engineering," Fogg says. "No software company is focused on making engineering really efficient. So our focus was engineering, but then each of the other avenues around it—the purchasing, manufacturing, assembly and accounting departments—were also streamlined. We took it as a very holistic business approach and said, 'Where do things bring value?' And that's where we put our efforts."
Version 7.2 of Counterpart is currently available to companies with a 50-person operation or smaller.
The final portion of Fogg's three-part business is the newly created Spartan Parts division. One year ago, the OEM started making competitive OEM parts for all kinds of equipment.
"People love our culture and the way that we do business," Fogg says. "So we started the process of being able to redesign and or reverse-engineer common, consumable parts on other OEM equipment. These parts go beyond fillers, it can be anything in a plant."
Over the course of the past year, Spartan Parts has gone a different direction than what was initially planned. The concept started out as just a spare parts business, but then evolved into rebuilding entire fillers with the new parts.
"Our approach now is different than what we thought it would be, but it's good growth for this business," says Derk Rietman, Spartan Parts manager. "And it's worthwhile doing. We have been taking on rebuilds once a quarter. A lot of these end users who have us rebuild their machines want to buy a Fogg, they're just a bit more expensive. This is how we can offer end users who don't have our equipment the Fogg service they would like to have."
Ben Fogg predicts that these two new business ventures could outpace the Fogg Filler brand as two separate entities within the next decade. And, collectively, the efforts underway—from kombucha to software sales to spare parts to culture—classify Fogg Filler as a truly progressive OEM, equipped to navigate the unchartered territory of industry change.