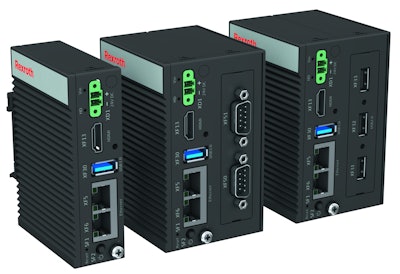 The secret of the Internet of Things (IoT) lies in the software. Without software, there would be no smart devices and no cloud. Rexroth's IoT Gateway software V2 provides users with new connectivity possibilities. The new hardware allows for an adjustable and scalable concept for one or more machines and can be used for existing machines as well as directly at the OEM. In order to evaluate status and processes more completely, the user has the option of connecting additional sensors, third-party controls and higher-level IT systems. Another new feature is the Device Portal—a joint development by Rexroth and Bosch Connected Industry for centralized management of distributed infrastructures.
Data is the key to optimizing Overall Equipment Efficiency (OEE). Rexroth's IoT Gateway brings companies closer to the strategic goal of networking all relevant machines and systems and making processes for evaluation and continuous improvement visible. OEMs and end-users require quick, workable connectivity solutions for both new machines and retrofit solutions. The IoT Gateway V2 allows both interested parties to quickly network new and existing machines in just a few easy steps. For access to production and machine data, the web-based configurable tool can be connected to a wide variety of sensors, servers and controls using the configurable device apps. The compact and robust multi-sensor CISS from Bosch, OPC UA predecessors OPC DA and other third-party control systems including Beckhoff CX and Allen Bradley/Rockwell ControlLogix are now also supported. Forwarding data for the purpose of analysis and evaluation is carried out by processing apps that, in addition to diverse cloud services, also support MES systems and offer a Generic REST service.
Demand-oriented selection of hardware
To customize the industrial IoT, the gateway software must be operatable on various hardware platforms. The IoT Gateway software runs on the Linux based PR21 IPC and soon will be available on higher-powered industrial PCs , especially the new IPC generation PR, based on Linux with WiFi, USB and local HDMI interface.
Management, data backup and app development
Another new feature is the Device Portal developed in cooperation with Bosch Connected Industry, which allows OEMs, service providers and end users to efficiently and remotely manage IoT Gateway instances. It is also possible to integrate it into existing management systems.