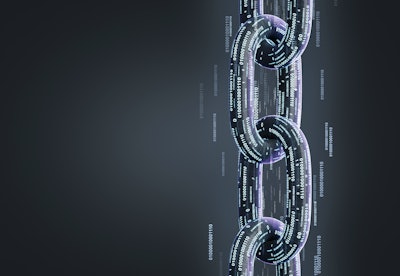 Blockchain technology is commonly associated with the cryptocurrency Bitcoin, which is a form of electronic cash. And, while you may hear the term bandied about during industry discussions, many OEMs wonder why they should care anything about it—other than if they were the victim of a ransomware attack. Truly, they can't comprehend how a blockchain investment could be valuable to their business.
But management take note, because blockchain is not just another buzzword. Functioning as an open distributed digital ledger, blockchain is the technology that underpins cryptocurrencies, but it can also be used for many other applications by providing a secure, decentralized approach to distributing digital information in a way that can be shared but not modified.
"It's an immutable database of ordered transactions, roughly like a financial ledger. These transactions can be literal debits and credits, like the original Bitcoin, but for other blockchains, it has expanded to include any data that you want to put on it such as pictures, weather reports, purchase orders, all ordered in a sequence," says Bill McBeath, chief research officer at ChainLink Research.
For this reason, blockchain is gaining traction as a way to verify transactions across the supply chain.
The fact that it is "immutable" is key, McBeath says, because the information cannot be changed. And it is shared, so multiple entities see the same data as a single version of the truth. This is the most powerful part of blockchain. Without blockchain, you end up with discrepancies between systems. One company with its own enterprise resource planning (ERP) system might send an electronic data interchange (EDI) message or a PDF to another company to order supplies, but when they put it into their system, the data may be converted, incorrectly keyed-in, or interpreted so it is not necessarily the same. "With the blockchain, everyone sees exactly the same data," McBeath says.
Because of that, there are a number of applications that are ripe for blockchain prototyping. In the food supply chain, it can be used for product authentication to verify the food source, keep counterfeit products out or for shipping and logistics management, for example.
But the applications are rapidly expanding into other areas. For OEMs, it could be applied to contract management, warranty management and automated service agreements. Perhaps the most interesting area OEMs will want to explore has to do with usage-based financing, which means machine builders receive financial compensation based on the number of units produced at the end user's site.
Otherwise known as Machine-as-a-Service (MaaS), it's the ability to pay based on equipment performance, and it has the potential to completely transform an OEM's current sales model. Meaning, instead of selling a customer a $200,000 machine outright, the system could be paid for on a per unit basis.
It might sound far-fetched, but there are some pioneering OEMs that are moving in this direction. Specifically, Pearson Packaging Systems, which will introduce its first blockchain-based machine in a pilot project this April.
The making of Machine-as-a-Service
Michael Senske, president & CEO of Pearson Packaging Systems, had been toying with the idea of offering the company's end-of-line case erectors, packers and sealers in a Machine-as-a-Service model for a few years. The idea came to him out of necessity, really, as Pearson Packaging had offered such a set-up a few times before to loyal customers, which, for whatever reason, lacked access to capital but still needed the equipment. "They said, if you are willing to provide us with the equipment we'll pay on the successful output," Senske remembers. "And it worked incredibly well."
The problem, however, was that it was very difficult to keep track of the performance of the machine and tie it into a real-time payment process. That problem has been solved, he says, with the help of Steamchain Inc., a start-up company co-founded by two former Rockwell Automation engineers, Michael Cromheecke and Tom Tichy.
Steamchain, founded in 2017, has developed a MaaS platform geared specifically to machine builders who can use the blockchain-based software to measure a variety of critical machine productivity parameters in real-time and use them to calculate transactional payments based on the machine's overall performance.
"The idea for Steamchain was formed by my experience as a field service guy in the motion control business," Cromheecke says. "I'd get called in when they had large commercial issues between the people who built the machines and the people operating them. When the machine was not operating to expectations, both parties ended up looking at each other to rectify the situation, often times bringing in the automation vendor to assess the situation. I spent three years of my career flying around on behalf of the business and sitting down at a table with the end users and the OEMs to discuss the challenges they faced with equipment and trying to provide some kind of path forward."
And that is how the idea for Steamchain was born.
Specifically, it comes down to aligning the relationship between OEMs and end users through accountability and the ability to achieve an outcome. Ultimately, customers don't want to buy packaging equipment—they have to buy it. And there's a certain amount of production time and cost per unit that they care about.
"We are forcing them to buy equipment when what they really want to buy are results," says Senske. "Steamchain allows us to let customers buy what they want in the first place, which is output, throughput and efficiency—not packaging machinery."
Senske says he's talked to many of the company's customers who have indicated they would embrace the new MaaS business model that streamlines the measuring and monetizing of equipment output. "Blockchain simplifies it, automates it and integrates nicely into our equipment. Frankly, we think it's a good fit," he says.
So good, that next month, Pearson Packaging will add the technology to a model within its case erector product line. "The first machines will be individual case erectors and then packers, sealers and palletizers," Senske says, "and ultimately we will apply it across an entire end of line."
The R&D and investment in Steamchain has not been difficult, Senske says, mainly because, first, a vast amount of the Pearson equipment is delivered with remote access capabilities built-in. Second, the company has standardized on Packaging Machine Language (PackML), a technical standard for the control of packaging machines. Pearson uses PackML as a unified approach to structuring the programs that pull performance data out of the equipment.
As a result, adding Steamchain technology "is not a significant change to the equipment at all," Senske says. The biggest change is a cultural one. "It's more of a willingness to embrace the potential business model."
For anyone considering blockchain, the first step is identifying the business case to figure out if it will indeed add value. And, since the underlying problem the technology solves is providing a secure way to share data, another area that is emerging as a valuable application for OEMs is contract management across the supply chain.
Smart contracts
OEMs live in a paper-based world, for the most part, which creates a tedious trail of reviews and approvals which become cumbersome. But the ability to manage contracts using blockchain—dubbed "smart contracts"—can allow multiple stakeholders to have visibility into the electronic documents while maintaining privacy.
The use of Ethereum, a blockchain protocol that is similar to the utility that underpins Bitcoin, is the enabler of smart contracts. However, Steamchain uses the technology to manage shared access to machine data not as a ledger for cryptocurrency. It is an open-source, public, blockchain-based distributed computing platform that features smart contract scripting functionality. In this format, the rules of the contract are not only defined, but the penalties around the agreement can automatically be enforced using "if then" logic sequence.
According to Cromheecke, a supplier could issue a smart contract on the Steamchain platform to specify the quantity, price, availability date, and shipping and payment terms. A manufacturer could automatically search the blockchain for smart contracts that meet its requirements, verify the reputation of the seller for quality and timeliness based on the network of data, and then complete the transaction. Without the need for a manually-generated purchase order, the supplier could then seamlessly locate and execute a smart contract with a carrier for delivery.
Smart contracts have many uses, from managing the supply chain agreements to warranty management of equipment to protecting intellectual property (IP).
"Dispute resolution is a key part of this so that people avoid going to court," says Dan Albright, the head of the supply chain management practice at Infosys Consulting. "Once a contract is in place, everyone has immediate visibility to what was agreed upon. To avoid litigation, it should have, to some extent, electronic or online dispute resolution versus arbitration."
For online dispute resolution to work, the parties that have entered into the blockchain-based contract have to have an arbitration agreement upfront. Most companies would be willing to go that route to avoid the cost of litigation. "The information in the blockchain system is distributed and unchangeable," Albright says. "And the speed of access to data is much different. So, theoretically it allows better decision-making in any dispute resolution."
ChainLink Research's McBeath warns, however, that a smart contract is not a legal contract, as it is just a piece of code. He also emphasizes that OEMs should understand the difference between public blockchains (where anyone can participate) vs. permission-based blockchains (participants are identified and vetted by a central authority) as they look into blockchain-based contract management.
There are about a dozen smart contract suppliers out there. Steamchain is one of them, as it can offer a solution to customers through its custom engineering services. "Think of our platform as a highly-automated contract management utility," Cromheecke says. "It drives data from the machine and automatically processes the back office transaction to support the contract as agreed."
Steamchain's smart contracts also provide a secure way to handle warranties without the possibility of people making mistakes or being manipulated. Smart contracts execute and enforce themselves, so they can detect if a warranty claim is fraudulent much more quickly than a person can.
On the blockchain bandwagon
Other companies are popping up in niche areas, such as BlockStrain, a platform for the cannabis industry that creates a genetic fingerprint that validates the product as well as protects the IP for growers. In addition, SyncFab caters to aerospace, automotive, electronic components and medical device industries by developing a decentralized precision manufacturing network to get quotes and secure order processing. And, Data Gumbo has surfaced as a smart contract offering for the oil industry.
And then there's IBM Food Trust which uses blockchain technology to create visibility and accountability in the food supply chain by connecting growers, processors, distributors and retailers through a permissioned, permanent and shared record of food system data. It can track food from source to consumer for safety and regulatory compliance. It provides shared data in an immutable ledger to ensure quality of products. And, it adds transparency and specificity about the sourcing of food products to build brand trust.
This Software-as-a-Service (SaaS) food ecosystem has been available for almost two years in testing, during which millions of individual food products have been tracked by retailers and suppliers, IBM claims. Recently, Walmart announced it will be using IBM Food Trust as a foundation for the blockchain-enabled Walmart Food Traceability Initiative.
While all of these blockchain initiatives may not be right for packaging and processing machine builders, they do indicate there's an important technology trend developing that everyone in the industry should be thinking about.
As a pioneer in the Machine-as-a-Service area, Pearson Packaging's Senske understands he's taking a big—perhaps risky—step forward. He's anticipating there will be obstacles along the way, especially when his machines are part of an integrated line. If there's an external issue that impacts equipment efficiency, for example, there should be some pre-determined amount that needs to be paid so that Pearson is not being punished when the end user is unable to address an internal problem that is unrelated to their machines.
Ultimately, however, the MaaS model will create a better working relationship between OEMs and end users.
"It's an opportunity to align the needs and wants of the customer with those of the OEMs," Senske says. OEMs will be more motivated to get out into the field to understand what's happening at the customer site in order to make sure everything is running at peak performance. Because, "at the end of the day the only way to get paid is if that equipment and that line is running."
PMMI highlighted blockchain as being a "tool of change" as OEMs and end users adapt to e-commerce trends during its recent Think Inside the Box Webinar. To learn more and watch the webinar, visit: oemgo.to/toolsofchange