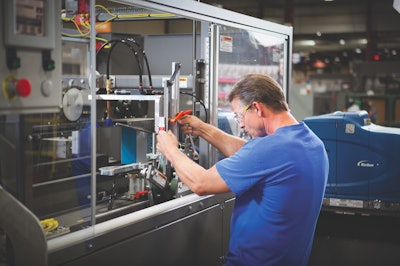 One-stop shops are what everyone seems to want these days. But true, proprietary one-stop shops are rare indeed. Today, most one-stop shop manufacturers and machinery suppliers pull resources, technologies, and machinery from a number of strategic partners.
These partnerships are a competitive market necessity, and they are all well and good as long as things run smoothly. But when something goes wrong, who gets the blame? Who could be sued?
More importantly, how do you know if your strategic partners are on the same page as you regarding product risk management? Simple: You ask them—and then you check yourself. You ask them about the safety features on their machinery, you follow your own procedures for risk management, and then you document what you find. And if your technology partner doesn't share your commitment to safety, or is unwilling to come up to your level of accountability, maybe they are just not partner-worthy.
Once bitten, twice shy
When a manufacturer has a number of strategic technology partnerships, part of the value proposition to their clients is the expertise of how to integrate multiple technologies seamlessly into an efficient—and safe—production line. While many industry standards such as ANSI and ISO provide a good baseline, one end-of-line OEM, Pearson Packaging Systems, Seattle, felt compelled to commit itself to a higher level of product risk management after its (now former) insurance provider disappointed with its response to a minor incident.
The liability case mentioned here happened well over a decade ago and woke the company up to the limitations of its product liability insurance policy at the time and the poor customer service that went along with it. Looking for new solutions, Pearson Packaging Systems, which offers a comprehensive secondary packaging automation product portfolio, connected with AHT Insurance.
While a lot of existing brokerages and insurance companies help with plant safety, worker safety, etc., AHT's decades of experience in the packaging and processing machinery space lead it to recognize and address an often overlooked OEM exposure in the product liability arena. With the support of this new strategic partner headquartered in Leesburg, Va. and an office location in Seattle near Pearson, the company reexamined all of its floor practices and administrative policies from new perspectives.
The company implemented new internal processes and formalized safety standards including Equipment Safety Risk Assessments, In-Field Safety Reviews, documented Customer Safety Communications and continuous training and education of its entire workforce—and began to demand the same level of commitment from its partners.
"It's amazing to me how many times I ask questions and companies say, 'We revisit it every five or 10 years, and we do things the way it's done,'" explains Michael Senske, Pearson CEO. "They build great equipment and it's probably very safe, and they are very fortunate they haven't had a claim, but it might not be because of deliberate actions that they are taking. It might just be a coincidence or luck of the draw, and something could happen at any time."
Senske believes risk management should be entrenched in the culture of a company, and he's well aware that many complementary pieces have to be in the right place to complete the puzzle.
AHT's experience in this specific market puts the broker in a unique position to educate the insurance providers on the specific risk exposure, down to the granularity of palletizer, conveyor, or vertical form fill seal model and year.
Naturally, these specifics aren't anywhere on the radar of most insurance companies, so a knowledgeable broker that can help the insurance company accurately estimate premiums without overpaying is a big value to Pearson. Traditionally, to price probability for any industrial machine, an underwriter would use a comparatively arbitrary loss pick approach—using a vf/f/s machine's imprecise SIC number to extrapolate hypothetical future settlements (and premiums). AHT educates the insurance provider to get to a dead-to-rights accurate risk assessment on a vf/f/s, stretch wrapper, palletizer, etc.
A measure of control
Insurance brokers should not just sell insurance. Pearson's insurance broker worked closely with Pearson employees to revamp all their internal risk management and accountability practices. Insurance policies are one thing, but Senske believes that maintaining best practices internally is the only way to foster a culture of safety. These practices can include audits, documentation, safety teams, periodic training, and
contingency planning.
"We went through our practices and AHT audited them for risk assessment and equipment safety," Senske explains. "They bundled it and put it in one package, helped us really make sure that it was as homogeneous as possible, helped us communicate to the entire organization the importance of it, and worked with us to really make sure that it was becoming part of our culture going forward."
But manufacturers are never in complete control. For instance, how do you protect your company's potential liability after a machine you made leaves your hands, or when a
third-party piece of equipment comes in not the way you expected it—or is simply not safe enough by design?
AHT has a proactive program in place to track this. In this case, John Russell, director of technical consulting, AHT, developed a customized road map for Pearson to continually review, correct, and most importantly, to document machines in the field from a risk management perspective. This proactive approach to identify modified machines is unique to the industry. In fact, Pearson still discovers machines in the field where customers deliberately modify machines in ways that make them less safe. The insurance consultants helped the company put together processes for how to deal with those situations, how to correct them, and how to document those processes every step of the way.
In fact, statistics tell us that when accidents happen in the field, 84 percent of the time, it's operator error, oftentimes on an improperly modified machine. Operators have production goals to meet, and they are notoriously adept at modifying machines or bypassing safety restrictions to suit their goals with little regard for personal or machine risk.
While North American OEMs are overwhelmingly building safe machines, the ability to demonstrate this majority is another matter. Without proper documentation, it could end up being the OEM's insurance company that writes a check. Meanwhile, the OEM deals with the reputation hit. AHT's documentation road map gets out ahead of this, which Pearson sees as a major value.
Not just outgoing machines
Pearson is equally careful about what machinery or technology comes through the door into its domain. "We integrate a lot of third party equipment," Senske explains. "We apply the same approaches to selecting vendors and making sure they're adherent, because we're selling that product now as part of the line even though we don't manufacture it."
Leo Robertson, COO at Pearson, feels that the company builds confidence and trust by applying high standards consistently. "We do safety risk assessments on every single machine whether we purchase it or manufacture it," Robertson says. "If we find something that does not comply with our own safety risk assessment standards, we will go back to that OEM and request upgrades."
At times companies will push back indicating that they have had no issues, and are fine with the way they have been doing business. "At this point we decline providing that piece of equipment, and source it from someone else who does comply—or is willing to make the effort to comply," Senske says.
Processes into policies
Manufacturers like Pearson can have multiple strategic partners in any given line installation, and those might be different from one project to the next, which can be overwhelming.
One way to share risk and liability is through an insurance program known as a Contractual Risk Transfer (CRT), which protects businesses in relative measure to their respective role in any particular partnership. A CRT supplements a General Liability policy to create a risk or liability contract that more accurately reflects a company's level of contribution to the conditions that might lead to a claim.
Through a CRT, each company takes responsibility for its own actions (and their consequences), while contractual business partners assume a share of the risk that is relative to their ability to control it. Effective risk transfer can save companies money by lowering the overall cost of risk.
In practice, companies may be part of a number of contractual relationships at any one time, so it is essential to control the type and magnitude of liabilities the company assumes. Conversely, companies may benefit from looking for opportunities to manage risk by having others contractually assume their share of liability.
Robertson expands on how important consistency is in
self-review, documentation, maintaining a safety committee, and training. "The consultants have really helped us be consistent over the past decade," Robertson reflects.
When Pearson started consulting with insurance brokers and examining its practices more closely, the company was also revamping its entire product line. Senske and Robertson used the opportunity to build risk management processes into Product Development and instituted a Product Requirement Document, which examines safety concerns line item by line item. Since that time, Pearson hasn't had a single product liability claim or an injury claim by a customer.
"Risk assessment has become part of our culture," Senske concludes. "We don't look at insurance consulting as a commodity. From process improvement and safety analysis perspectives, we think it provides a tremendous amount of value, and we're willing to pay for it."