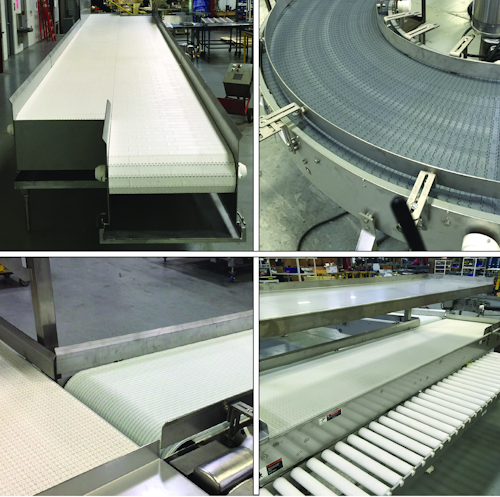 Multi-Conveyor built a series of conveyors comprised of various technologies and components for a cheese manufacturer. The first element moves raw blocks of cheese on a near 24 ft.-long stainless steel constructed and sanitary welded plastic belt conveyor built to 3A dairy sanitation specifications.
The lower level features removable catch pans and a stainless steel discharge chute for raw product debris. Belt lifts, quick release belt take-ups, and removable CIP (clean-in-place) nozzles simplify the liquid cleaning washdown process.
The product is manually moved to a customer supplied rollstock packager then onto a secondary conveyor section using Intralox 90˚. Zero Tangent Radius curve technology. Two more conveyors that are perpendicular, form a 90˚ transfer of product from a straight running system to the elaborate hand-pack station.
The hand-pack section features an overhead stainless steel shelf that stores manually erected cases. The cases are filled on the gravity conveyor section before they're manually pushed to the next part of the line.