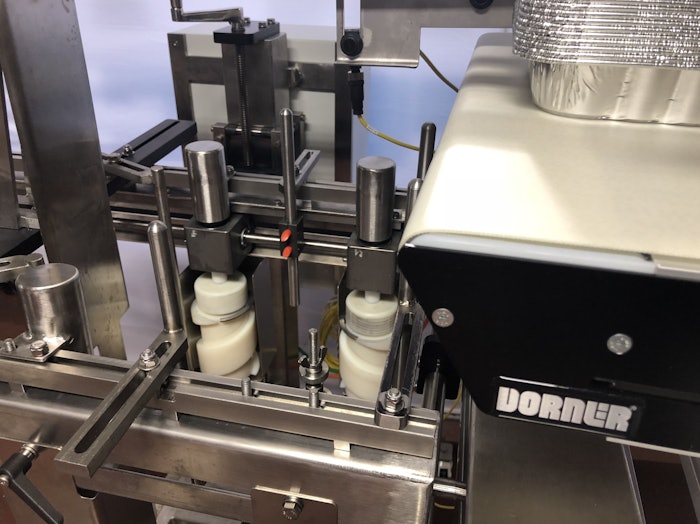 FEMC, an Ohio-based manufacturer of rugged food equipment, has been in business for 42 years, but they still seek out every opportunity to learn from the industry and collaborate with its leaders, according to Aaron Dodds, FEMC's development director. This mindset is the reason why the company attends PMMI's Annual Meetings, and it's also where the OEM found its most recent strategic partner. 
During the 2016 Annual Meeting in Milwaukee, Dodds says he especially enjoyed the tour of Dorner's manufacturing facility where its conveyor products are made. The introduction to Dorner got him thinking about how FEMC could partner with them to improve their own equipment offerings, offer higher levels of sanitation and greatly reduce their lead time.
"FEMC was at a crossroad because we were experiencing extreme growth, and we were overreaching our manufacturing capacity," Dodds says. "We began exploring ways that we could integrate other vendors to not only add value, but reduce cost. So, we decided to build our custom products and do that well. And for products that are modular, like a conveyor, we would source that from a partner rather than build them ourselves." 
One of the company's most recent orders that included a Dorner conveyor  was for a food manufacturer whose customers are primarily senior citizens. Based on this application, there was enhanced focus on food safety and hygienic design of the product handling machinery. When FEMC began developing the equipment as a joint effort with the customer, Dodds knew the company needed to integrate a hygienically-designed conveyor. And that's when Dorner came into his mind. 
The conveyor manufacturer's AquaPruf and AquaPruf Ultimate systems include Tip-Up Tails and Belt Lifters, which enable the end user's  sanitation workers to have quick and easy access to the conveyor frame without tools. This accessibility allows every part of the machine to be cleansed with water, soap and other cleaning agents to eliminate bacteria growth, food and water accumulation and any chance of contamination. Dorner's conveyors are chemical-resistant and they are built to withstand high pressure washdowns, which make them an ideal fit in the food industry where strict regulations around sanitation and food safety exist. 
"I  talked with Dorner about making some of their conveyors standard into our equipment offerings, but also utilizing them for customized projects, which is where they shine because they get back to us quickly, and they leverage a really large engineering department," Dodds says. 
Another perk to choosing Dorner as its partner was the conveyor manufacturer's online portal called D-Tools, which allows Dorner customers to configure and get a price estimate on their own conveyors. 
"I may need to develop a budget quickly for a customer, and I like that I can actually configure a conveyor for my equipment online and I can instantly know the lead time and price," Dodds says. 
Dodds credits PMMI's Annual Meetings with connecting him to future strategic partners and sparking discussions among OEMs about industry trends that are shaping their business. 
"I couldn't even quantify the effect PMMI meetings have had on our business," Dodds says. "It is a huge opportunity for us to learn and there is so much knowledge and collaborative availability. We can't afford not to make those events."