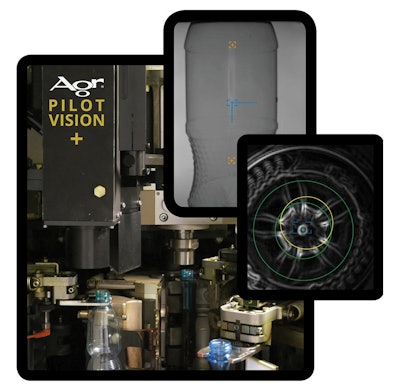 Recycled PET (rPET) has been a popular theme at PACK EXPO Las Vegas this week, reflecting an increasing number of CPGs asking for their plastic packaging to be made from higher and higher percentages of recycled content. But as those percentages rise, so does the potential for defects and color variations.
Agr International, expanding on its Process Pilot family of inspection and analysis tools, has introduced Pilot Vision+ for high-speed PET bottle production. Whereas its Pilot Profiler using infrared (IR) imaging to measure bottle dimensions, sidewall thickness, and overall material distribution, Pilot Vision+ is a vision-based system that "takes care of the defect side of things," said David Dineff, Agr's global product marketing director, showing off the new system at PACK EXPO Las Vegas.
The Pilot Vision+ system is designed to work in conjunction with today's high-speed reheat stretch blowmolding equipment. The system has a particular focus on containers with high percentages of rPET, which can face color transition issues as recycled content gets into the 50-60% range, Dineff noted.
Combining Pilot Vision+ with the Process Pilot automated blowmolder management system provides bottle producers with the ability to not only detect random occurring defects, but also manage the process to maintain precise material distribution, even with the lightest and/or most difficult-to-process bottle design.
The Pilot Vision+ system, with an operating speed of up to 100,000 bottles/hour, is compatible with most blowmolder systems. With the compact design of cameras and lighting components and an open architecture, up to six cameras can be managed simultaneously. They are usually configured in four separate inspection stations—preform inspection in the oven area, and bottle seal surface, base, and sidewall inspection immediately after mold takeout.
With its preform inspection module, the Pilot Vision+ system can identify defects that are visible in the preform, before the bottle is blown. Multiple color cameras provide the imaging for 360-degree preform sidewall inspection as well as end cap and gate. Optics, LED illumination and image analysis routines are optimized to identify preform defects that impact bottle integrity, particularly the black specs and particle contamination sometimes associated with rPET. The preform cameras also ensure that colors are within acceptable ranges. The system's ability to learn multiple reference image sets for color inspection is also designed to address rPET-related issues.
Inspection algorithms incorporated into the base inspection enable the identification of the smallest defects and anomalies regardless of base size, shape or design. A unique liquid lens eliminates the need for mechanical lens adjustment when changing between containers with different heights—ranging from 5 to 16 in.
Other features of the inspection system include:
Large, touchscreen user interface with all data accessible from the main screen.
Pre-built tool sequences provided for each inspection type.
Flexibility to adjust parameters using live and history images during production.
Full-color preform imaging for color management.
Active cooling for high-temperature operation.
Sealed components to prevent damage from fluids and moisture.