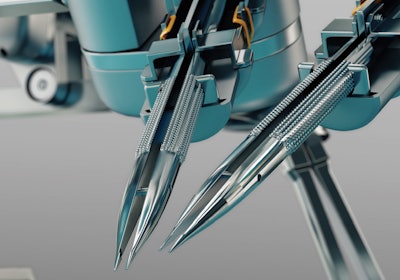 PMMI Business Intelligence, 2022 Meat, Poultry, Seafood & Alternative Proteins: Automation, Expansion, Sanitation.
Cash is king for consumer packaged goods companies as they search for their next equipment manufacturer.
That's according to a survey conducted for PMMI Business Intelligence's 2022 report "Meat, Poultry, Seafood, and Alternative Proteins: Automation, Expansion, Sanitation." More companies (45%) picked machine cost and total cost of ownership as a top priority over any other attribute.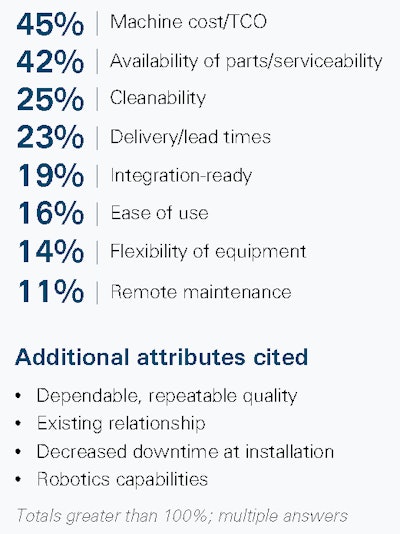 Trailing shortly behind was availability and access to parts and services, noted by 42% of companies. A quarter (25%) of companies are also looking for equipment that is especially easy to clean.
Companies are also considering delivery and lead times (23%), integration-ready support (19%), and machinery's ease of use (16%) when evaluating suppliers.
A CEO at a seafood original equipment manufacturer (OEM) noted a shift in demand, saying, "In the past, we have been more involved in isolated projects with individual machines. Now, we are more involved in a complete processing solution, consisting of several machines or one machine with add-ons and combinations."
Pandemic Priority Shifts In Scouting Suppliers
The challenges created by COVID-19 are clearly reflected in the attributes manufacturers prioritize when evaluating machine suppliers. The pandemic cut deeply into manufacturers' bottom lines, especially those that endured forced closures as a result of safety precautions.
While machine cost is always on manufacturers' radars, it has become even more important after the difficult years of pandemic production, with 45% of respondents saying cost is an essential part of their supplier evaluation process. And that priority toward cost extends beyond the initial purchase.
"More important than the machine price is the overall lifetime costs – we need to evaluate parts, labor and preventative maintenance," an engineering representative at a large poultry company said.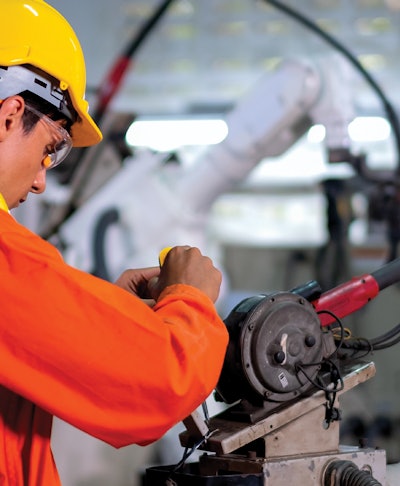 Pandemic-related supply chain woes severely impacted protein manufacturers in a variety of ways, including acquiring the parts and labor needed to maintain their machines. Forty two percent of respondents stated the availability of both parts and technicians has become their top supplier priority.
"The most important attributes we look for when selecting our suppliers are their proven design and integration skills, remote access for maintenance, and the resources to repair our systems when needed," a plant engineer at an industry leading company said.
The pandemic also placed renewed emphasis on sanitation standards. Consumers have a heightened concern about the safety of their products in light of the pandemic, and manufacturers are acutely aware of both this consumer concern and their own urgent need to minimize the spread of illness among their workers.
As a result, 25% of manufacturers say the cleanability of machine offerings is a key supplier attribute as they seek to allay public concerns.
"Meeting sanitation standards is extremely important and we need flexible equipment to accommodate our customers' needs," a VP of operations at a contract packager said.
Source: PMMI Business Intelligence, 2022 Meat, Poultry, Seafood & Alternative Proteins: Automation, Expansion, Sanitation
Download the FREE report below.