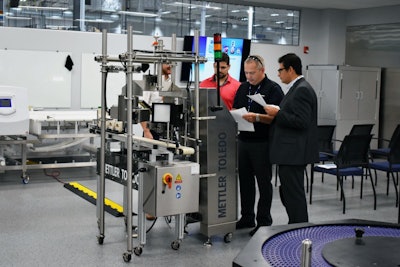 Mettler Toledo Product Inspection
To be defined as an "innovative" company is something every OEM wants. But there are many aspects of innovation beyond invention, and at Mettler Toledo, its innovative essence is rooted in equipment quality, safety compliance, and service.
Mettler Toledo, headquartered in Switzerland, provides a variety of measurement and precision instruments for the customer value chain. It started off as two separate companies—Toledo Scale, founded in 1901, and Mettler, founded in 1945. The two companies merged in 1989 and has since grown into a global organization with five business divisions, one of which is Mettler Toledo Product Inspection, based in Lutz, FL.
Mettler Toledo Product Inspection makes metal detectors, X-ray inspection, vision inspection, checkweighers, and track and trace technology for the food and life sciences industries. The concept of consolidating innovative strategies, knowledge, tools, and abilities of different companies is instrumental in the development of today's Product Inspection group, which grows at a rate of seven to 10% annually, with R&D representing 5% of net sales per year.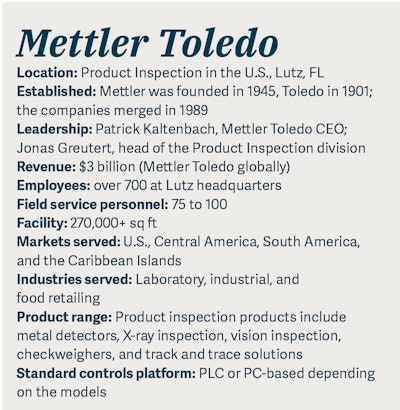 Alan Zeng, OEM business development manager at Mettler Toledo Product Inspection, emphasizes the company's ability to grow through acquisition. "We look for companies who are also leaders in their markets and where their products complement or help to round out our offerings."
Key acquisitions that have formed the Product Inspection division to date include:
Hi-Speed, founded in 1953 and acquired by Toledo Scale in 1981, a maker of checkweighers.
Safeline, a maker of metal detectors founded in 1989, acquired by Mettler Toledo in 1997.
For vision inspection, CI-Vision, founded in the late 1970's, was acquired by Mettler Toledo in 2009.
And, PCE founded in 1989, was acquired by Mettler Toledo in 2011, adding comprehensive track and trace with serialization and aggregation software to the company's product portfolio.
According to Zeng, the previous general manager of the Product Inspection group, Viggo Nielsen, had the vision of moving all of the machines and technologies into one place in order to utilize all of the brands' resources. Nielsen made that vision a reality in 2018 by combining the business units, which previously were spread out in three locations, to a newly constructed 270,000 sq. ft., state-of-the-art facility in the Lutz, FL location. The next year, Nielsen retired and Margie Custin took over as general manager of the Market Organization (sales, service and marketing) for Mettler Toledo Product Inspection.
---
---
By consolidating operations the company is able to streamline customer service across metal detection, X-ray inspection, checkweighing, machine vision, and track and trace/serialization capabilities. This also increases efficiency with all machines being assembled in the same production location, as well as parts and procurement engineering.
And further innovating on these acquisitions, Mettler Toledo was the first to invent digital metal detectors, Zeng says, noting the company then added foreign material detection for non-metal contaminants in addition to metal contaminants with X-ray technology, eventually becoming the largest X-ray machine producer for the food industry. Concerns about food safety have grown over the last decade and as product inspection is the mainstream method of assuring food safety, Mettler Toledo has utilized its resources to "grasp the opportunity and grow with it," he says.
To that end, the company dedicates itself as a resource to its customers. It sends food safety advisors to customer sites, participates in industry seminars, joins food safety associations, and closely monitors the Food and Drug Administration to keep up with the latest in food safety regulations.
Benefits of Lean application and vFATs
As much as the company focuses externally on customer service, it also keeps internal operations at peak performance. The Florida facility runs on Lean manufacturing design principles, Zeng says, which allows for more efficient workflow by only keeping key personnel on the work floor for quick response times and building core components on site.
"Mettler Toledo has been incorporating Lean for many years. Our entire production process is set up on the principle of Lean, from how raw material is ordered and processed, to how equipment flows through the plant," says Zeng.
The company has participated in multiple Five S programs to learn lean methodologies, applying the knowledge gained to all operations, from sales to production. Key performance indicators (KPIs) are used in all departments with progress information available to employees across the facility.
Zeng explains that early on in the application of Lean principles, Mettler Toledo would hire consultants to come and train the employees and through that process developed its own team of experts to train internally.
Furthermore, due to the COVID-19 pandemic, there are customer-facing processes, like factory acceptance tests (FAT), that have evolved with virtual technology. The company sets up professional cameras connected to Microsoft Teams or Zoom inside what it calls an "FAT room," where machines are moved to create a more controlled environment. Multiple such rooms are inside the Florida facility in order to perform upwards of three virtual FATs (vFATs) per day. The vFATs have been so successful and efficient that the company will continue to offer them as an option if customers prefer that method in the future.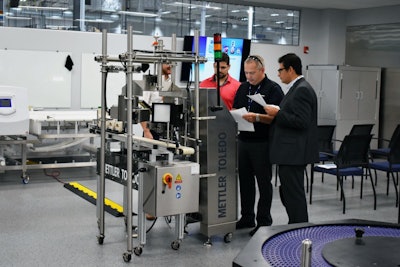 To that end, the company not only applies this virtual environment to FATs, but also to inspection and product testing. Customers will send product to Mettler Toledo which is tested on the machines the customers are looking into—which they witness virtually—and then sent back with a report that shows the detection specifications, Zeng says.
Customers are a priority
Zeng explains that the Product Inspection group's innovative drive is to improve customer workflows and make results more precise and reliable, to simplify user interaction, and to support customers' regulatory needs. To emphasize the importance of the customer experience, Zeng notes that the service department is larger than the sales department. The local service has been set up so that it can reach out to any of its end users in driving distance, sending out field engineers—when COVID restrictions and regulations allow—along with 24/7 telephone technical support.
The field engineers are trained by senior engineers, in classrooms by SMEs, and through self-learning via a web-based learning portal. The company also provides customer training on site through the field engineers as well as in its training center at the production facility conducted by service technicians. These services are offered in both English and Spanish.
When visiting a plant in person is not an option to maintain equipment, the company has a remote monitoring system in place to diagnose the machines and allow technicians to visually check if the machines are working at optimum level. This has expanded Mettler Toledo's aftermarket services and grown its installation base, allowing the company to fix issues with the machines in a shorter timeframe to increase uptime.
When asked about balancing standardized machine configurations with those requiring customization, Zeng says Mettler Toledo's first duty is to provide the customer what they need. "Our priority is to offer the best solutions and to meet the customer's needs, even [when it] requires customization."
Indeed, the company strives to provide excellent service as part of its machines. For example, a customer's initial product inquiry will be responded to within 24 hours. An assessment is completed first over the phone through Mettler Toledo's channel partners, followed up by an onsite visit to more fully understand the customer's application for product inspection and their upstream and downstream processes.
When a machine is ordered, a customer can expect a thorough review with engineering drawings for approval when necessary. The order's progress is continually communicated by the order management team throughout each step of the process, including handling and order changes.
Project management is also often customer-based. "We have established key account management, strategic account management, and project management teams based on market segments or dedicated customers," says Zeng. Mettler Toledo also maintains a close relationship with the end users to determine what their needs are in addition to keeping a close eye on market trends and new technologies to steer its new product development.
Employees are a priority
The company's service to customers can only be as good as its employees, which is why Mettler Toledo searches for and recruits talented individuals in science, engineering, marketing, and economics to fill diverse roles. "We look for individuals who are eager to collaborate, will take on various roles, adapt well to change, and are passionate to excel," Zeng says.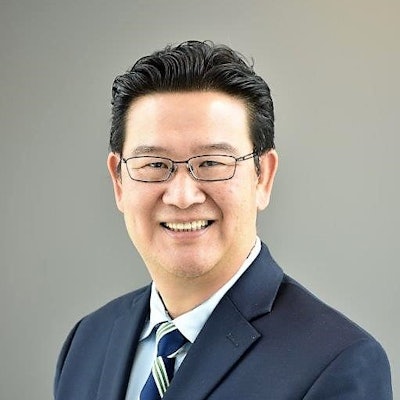 The OEM has organized an internship to help find these individuals. The internship targets universities, tech schools, and military retirees looking for their next employment opportunity. As a global company, these interns come from all across the globe, and the internship moves the individuals around various departments so they can find the role that best suits them.
Mettler Toledo has also continued its internal women's leadership program each year, which has been a determining factor in the company's culture, Zeng says, noting there are a lot of female leaders across the organization, from department manager, to supervisor, to, of course, general manager Margie Custin.
The culture is rooted in a good work environment that provides employees with solid benefits and career development programs, enabling employees to climb the ranks to become leaders.
"We manage the people well, we invest in [them]," says Zeng.
Challenges ahead
Zeng acknowledges the disruptions in supply chain and labor shortage being significant challenges for the industry, including Mettler Toledo Product Inspection. As the company's supply chain is becoming increasingly global, its products are also becoming globalized, which means sourcing components is an international affair. The issue that Zeng foresees is if a supplier cannot provide its components, the company must look for alternatives, which would need to be tested to ensure they can perform to the standards of the previous component. Additionally, such supply chain challenges can push lead times from four weeks to about 40 weeks—which is a problem for many OEMs right now.
To counter these issues, Mettler Toledo is encouraging its engineers to stockpile parts. "We send out a lot of purchase orders to increase our safety stock," says Zeng. The company also uses forecasting technologies that allow them to see six months to a year ahead with the hope of countering challenges before they arise.
As for the labor shortage issue that also burdens every OEM and manufacturer these days, Zeng explains that the company's Lean practices help to mitigate this issue, and automation is brought in to shorten build times. But it is not enough. They still need people. "We've got a big billboard on the side of our building that says, 'We are hiring.' We try to let people know that our teams are growing."
From the billboard to LinkedIn posts, Mettler Toledo is spreading the word far and wide to find and attract that skilled and enthusiastic workforce mentioned above, because growth at the Product Inspection business will continue. Food and pharma safety will always be a priority, and the "innovative" Mettler Toledo is determined to deliver quality equipment coupled with top-notch service.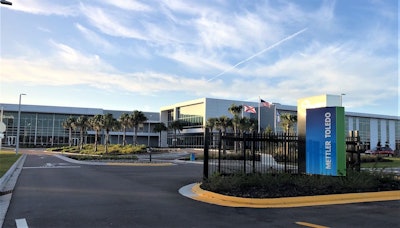 Companies in this article