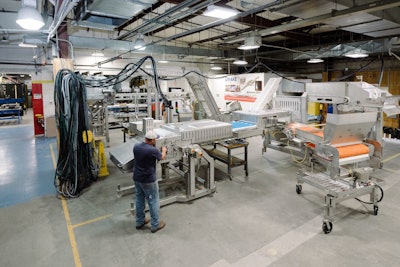 Image courtesy of Drake
COVID-19 did more than just introduce a new fast-spreading virus across the globe. It shut down workplaces, schools, small and large businesses, and weakened supply chains across virtually every industry.
According to the 2021 End-of-Line Equipment Purchasing Trends and Design Insights report conducted by PMMI, the Association for Packaging and Processing Technologies, manufacturers have reported that lead times have increased, and certain componentry, such as specialized HMI and PLC equipment, is difficult to source in a timely manner. But components like these are not the only things facing delays, as many equipment parts and packaging materials feel the strain of supply chain challenges.
These delays are caused by a number of factors, all rooted in the COVID-19 pandemic, including the widespread disruption of traditional shipping channels, a general lack of labor that has impacted OEMs' ability to produce machinery, and a sharp increase in demand for packaging equipment—especially machinery and components that incorporate higher levels of automation.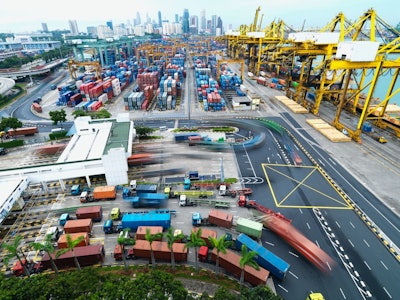 Unfortunately, these issues are not easily solved as global supply chains and warehouses face closed ports, borders with restricted access, and the largest issue of all: widespread labor shortages. The lack of available workers is forcing warehouses to run at less-than-full production capacity, creating less parts and equipment, and reducing accessibility to the consumers who require these parts and materials to make their businesses run.
"Staffing is one of the biggest issues. From shipping lanes to truckers, to factory workers on the plant floor. Either making machines or making CPG goods, people can't get the workers," says Bryan Griffen, PMMI's director of Industry Services.
Labor shortage is a trend impacting businesses of all sizes. According to a recent study from Deloitte and the Manufacturing Institute, the pandemic outbreak initially erased approximately 1.4 million U.S. manufacturing jobs, undoing more than a decade of manufacturing job gains.
---
---
The trickle-down effect of not enough labor for one company, impacts the next company, which impacts the next. So the industry faces material shortages and price increases, and the stress that goes along with these issues.
It's no surprise that Griffen says that the thing that keeps OEMs up at night is none other than the supply chain. Specifically, the impact of the supply of components for machine builders and the struggle of getting equipment out to their customers. And the problem may go on longer than anyone would hope; according to insights from OEMs, end users, and government staff, delays are predicted to continue through 2022.
Best practices to ease supply chain burdens
While there may be no readily available solutions to the supply chain issues, there are some best practices that OEMs can adopt to make their supply chains more resilient and keep their operations running smoothly.
Stay honest and open.
Since delays and shortages due to the pandemic are out of OEMs' hands and just about all parties involved are feeling the strain, it's best to foster an environment of honesty, trust, and a little patience.
"There's not really a solution to it yet. The solution needed is to get trucking back online and get shipping to where it once was," says Griffen. "However, the workaround now is everyone needs to be more open, upfront, and honest about what their shipping is looking like right now. Don't promise fake times just to get the job. Be up front. In the end that doesn't help anyone."
While it may be tempting to promise a short lead time to earn new business, it's not a good idea to make empty promises that will only lead to disappointment from everyone impacted. Keep in mind that while customers may be frustrated with longer lead times and delays, they are well aware of the mounting supply chain issues creating the problem.
"It's not a question that everything has slowed down; just be honest about actual lead times," Griffen says.
And regarding the issue of increased pricing, it is best to stay open and upfront about this issue as well. In today's climate, suppliers and CPGs are well aware of price hikes throughout the supply chain. According to Tom Ivy, president of F.R. Drake, CV-Tek, and RapidPak, (all part of Middleby Food Processing) the company has had three price increases in 2021, and they're not alone.
Plan ahead.
As lead times and customer frustration continue to build, planning ahead becomes more crucial than ever.
Ivy says an important thing to do is to pre-order parts and components as your budget allows, to get a leg up on the long lead times, especially with (traditionally) overseas products like electronics that face even longer delays than domestic parts.
---
---
"When an OEM produces a machine, we create an electronics package… and what we've done on our most popular systems is we pre-order those packages, so we get them in sooner than needed," says Ivy.
Since a lot of electronics are produced overseas, Ivy says these are having the biggest issue arriving to OEMs in a timely fashion. So, Ivy explained that if they budget to build 10 machines for the year, they will go ahead and order 10 electronics packages to have on hand—before they even need them.
While holding inventory goes against the idea of lean manufacturing, in today's climate, it can help maintain access to the materials and components that are suddenly in short supply. If possible, plan to order components and parts in bulk that you know you will use in the coming year.
"Pre-order what you can if you have it in your budget. It is better now to have inventory sitting on a shelf than have customers who want machines but can't get them. Plan for the worst, hope for the best," says Ivy.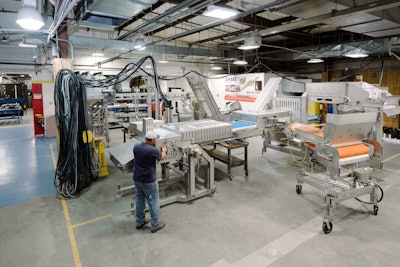 Diversify.
Another best practice to get ahead of long lead times is to diversify your materials and suppliers. Right now, certain materials and machine parts are getting more difficult to obtain in a timely fashion.
For example, Ivy says that "aluminum block, electronics, air cylinders, rubber items, and bulk plastics are very hard to find, as are most electric motors."
Aside from ordering in advance, another idea to remedy this is to look for workarounds to receive the parts you need, whether that means looking at secondary suppliers, or tweaking your machine to utilize different parts and components. "Can we redesign small things or tweak our machinery to use parts that are easier to get?" asks Ivy.
Additional questions to consider include: Are there other suppliers closer to your plant that can get your parts any quicker? And, can you switch from an overseas supplier to something made in the U.S? Ivy says that he and his team have managed to keep up with new lead time demands due to "pre-ordering raw materials, changing suppliers, and using items already in inventory."
Supply chain issues and delays not only impacts machine parts, but also raw materials. This has a trickle-down effect of impacting suppliers, consumer-packaged goods companies, and then ultimately consumers.
"CPGs, and then end-users are now not always getting the best quality of materials. And at this point CPGs have no choice―you take what you can get," says PMMI's Griffen.
If the materials that are going to be running on the packaging machinery change (or are less than the quality expected), this can cause problems for the machinery. One solution is to create machinery that can run off-spec.
"Machines today should be tolerable to run sub-quality film and material because you never know if you can get the perfect quality product. Consumers need to have food on the shelf, so we have to run what we have," says Griffen.
Tweaking your existing equipment to run with different components or run different materials could make the difference in keeping production running or shutting down operations.
Lean into the community.
Another best practice OEMs should consider is leaning into peer and business relationships. For example, consider fostering the supplier relationship by visiting your supplier in person to create that personal bond.
"We've been going and visiting our suppliers in person or having personal meetings, so they understand the human on the other end. And it's paying off. It's one thing to disappoint a company and another to disappoint a friend," says Ivy.
Fostering a relationship can afford you better customer service, though it may not change the lead time problem, you may enjoy more honesty from your supplier.
Another way to lean into community is to consider joining The OpX Leadership Network, which brings together manufacturers and OEM experts to develop best practices and protocols for free industry adoption. The OpX Leadership Network Executive Council is the governing body for the network and is made up of approximately 50 North American manufacturing companies that work together to tackle the pressing issues affecting everyone, like long lead times and supply chain issues.
---
---
The network ensures CPG manufacturers, OEMs, and suppliers are well-connected and well-prepared to solve common operational challenges and make smarter business decisions.
Until we are back on track.
The truth is that the issue of long lead times and supply chain delays are predicted to continue through 2022. According to experts, the overall problem is one that will work itself out over time, as more shipping lanes open back up and trucks are back in operation.
So, while there may be no concrete solutions to the issue of long lead times for OEMs, for now, the best course of action is to continue to be honest with your customers, plan ahead to the best of your ability, diversify your suppliers, and lean into community, all to keep operations running as smoothly as possible.
Companies in this article