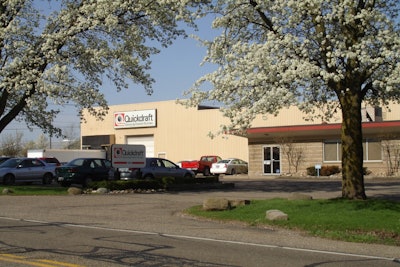 For nearly 70 years, Quickdraft, Inc. of Canton, Ohio, has powered its conveying and exhaust systems by deploying Venturi blower technology to efficiently increase air velocity and maintain vacuum pressure with no obstructions in the material conveying or exhaust flow path. OEM magazine spoke with Quickdraft's Joe Ovnic, general manager, to introduce one of the newest members of PMMI to their fellow members.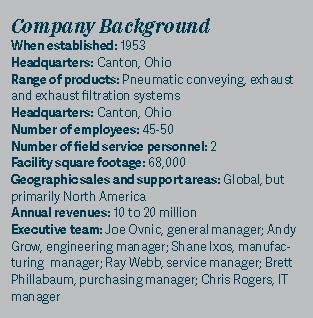 Can you provide a brief history of your company?
Quickdraft was founded as Basic Improvements Co. in 1953 as a provider of Venturi-based equipment that improved the draft for boilers and other equipment that required the exhaust of combustion products. It soon became apparent that this market wasn't sufficient to support the company as its only product. Through in-house testing and experimentation, Quickdraft could use that same Venturi technology to convey various products pneumatically, most typically waste products generated in manufacturing processes that need to be efficiently and quickly removed, transported, and collected. Quickdraft's primary market for many years was in the paper industry, removing the trim from slitting equipment. While still an essential part of the business, as the paper industry has declined, Quickdraft has developed other markets, particularly the food industry, where exhaust and exhaust filtration, particularly in the food processing industry, has become more and more significant to Quickdraft. The C.A. Litzler Company has owned Quickdraft since 1979.
What sets your company apart in the industry—what makes it shine?
Venturi technology is used in the design of most of our dilute phase pneumatic conveying systems and all of our exhausters and exhaust filtration systems. Our design has no moving parts in the conveying or exhaust ducts, as the blower handles ambient air and is outside the conveying or exhaust duct. This design provides our customers with dependable, low-maintenance, and long-lasting solutions. In addition, this allows us to convey continuous trim of various materials in our conveying systems reducing dust and eliminating other potential problems. This design also allows us to handle multiple problem exhaust applications —greasy, particulate-laden, extremely hot, acidic, extremely cold, etc.—in a dependable manner.
What's your approach to new product development?
We direct our research and development projects by listening to our customers and addressing issues they are facing in their processes, then improving and expanding our systems' capabilities.
How has your product line broadened over the years?
We have expanded our line of exhaust filtration systems to handle more challenging and different applications and to make them more user-friendly and efficient in water usage.
Where do you find most of your employees?
A good portion of our shop employees have been early placement students from local vocational high schools, particularly welders, a skill set we prioritize. Often mechanical engineers are found through recruiters. We are fortunate that employee turnover has not been an issue for us. We look for conscientious employees that take our customers' obligations seriously, and we are a drug-free workplace.
Why do employees love working for your company?
Because we are a relatively small company, each of us has input into different areas of the company's operations. We take our excellent reputation very seriously as a high-quality equipment provider in the marketplace that takes care of its customers. As a group, we are proud to be associated with a company with that reputation. In addition, all employees participate in an operating income bonus pool, so everyone has a stake in our success.
How do you balance standardized machine configurations with those requiring customization?
A significant portion of our product offerings is standard or pre-engineered. In general, we do not stock most of these components. The remainder of our offerings are engineered to order, typically sold by a sales engineer that visits the customer site to determine the overall specifications of the project. Once sold, an engineer will visit the customer site to laser scan relevant areas of the customer's plant to generate general arrangements drawings showing the location of our equipment.
Are you incorporating lean manufacturing?
We embarked on a lean manufacturing program many years ago. As a result, we re-arranged the product flow through our shop and changed certain processes completely. Before this we built most of our components to stock. We continuously look for opportunities to improve our efficiency and quality, including significant investments in production equipment.
What's your process for handling a customer's initial inquiry and needs assessment?
For the most part, this is handled by our sales group depending on the geographic location of the inquiry and whether it is a standard (pre-engineered) or an engineered opportunity. We do have some independent sales representatives that generate inquiries. In addition, we have a major distributor that sells our systems to the food processing industry as well as many oven and fryer OEM's that incorporate our systems in their offerings. We also have outsourced lead generation to an outside company. Once qualified for standard products, a quote would be sent. For engineered opportunities, the sales engineer would typically visit the customer site to determine the customer's requirements. Then those quotes are generated.
Once a customer issues a purchase order, what happens next?
We send out an acknowledgment of the order, and if it's standard equipment, it is then released to the shop directly from our configurator, which was used to generate the quote. Engineered orders are assigned to a project engineer, and typically, the engineer visits the customer site to laser scan the portion of their facility where our equipment would be located. From these scans, general arrangement drawings are generated in Inventor (3D) and issued to the customer for approval. After approval, the system components are released to the shop.
What challenges do you foresee affecting your firm and all companies in this industry?
Finding qualified labor is a continuing problem; we don't see that changing. We have made investments to mitigate some of that, but we cannot overcome the overall problem. Also, as a niche company in many different markets, we need to continually find new customers and applications for our products to grow; that takes time and money, which will always be a challenge because of our diversified customer base.
Easily share this article with your peers: oemgo.to/quickdraft