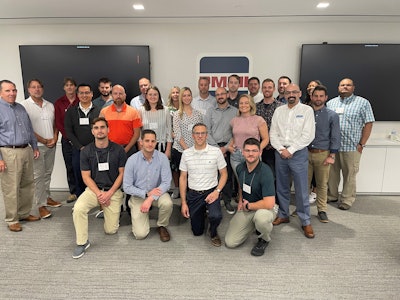 In an effort to shape the next-generation of packaging and processing leaders, PMMI offers a professional development program designed to outfit individuals with the skills, confidence, and drive necessary to be effective influencers within their own organizations.
Specifically, the PMMI U Leadership Development Program was created by the Emerging Leaders Committee in collaboration with Jim Stryker, president and founder of Leadership Perspectives, Inc., a management consultancy specializing in business transformation. This six-month training course takes place both virtually and in person with the additional benefit of one-on-one coaching sessions. To that end, the program provides a personalized plan for each participant, based on a multi-dimensional assessment measuring behavior, motivation, and leadership attributes. Through a series of impactful exercises, project based learning and professional development opportunities, participants will gain skills to make them more effective managers and leaders.
"In addition to your [personalized] leadership plan, you focus on a project throughout the year," explains Kate Fiorianti, PMMI's director of workforce development. "It can look different based on what you are trying to accomplish and is specific to your role."
The 2023 program is ready to launch on June 1st, and will include:
· Kick-off webinar
· Talent Insights Assessment: A multi-dimensional assessment measuring behavior, motivation, and leadership attributes
· 360-degree feedback evaluation
· In-person leadership training workshop
· Personalized leadership development plan which includes implementation on a current work project
· Monthly one-on-one coaching sessions
· Leadership training workshop in conjunction with PMMI's Annual Meeting
· Personal coaching report
According to some of the people who have participated this past year, the Leadership Development Program really does make a difference.
"The PMMI Leadership Development Program helped me understand the difference between leading and managing," says Ryan Beerley, applications engineering manager at Glide-Line. "I've gained confidence at the workplace and see my career in a different light since participating in the program."
Scott Shepard, key account manager at ITW Hartness, agrees that the program has helped define a path forward for him. "First and foremost, the program provided powerful tools and resources to learn a lot about myself, what motivates me, and how I behave as a leader. This, coupled with the exposure the program gives you to a wealth of academia in the field, allowed me to put together a personal improvement plan that has led to real changes in how I behave as a leader both in and outside of the workplace."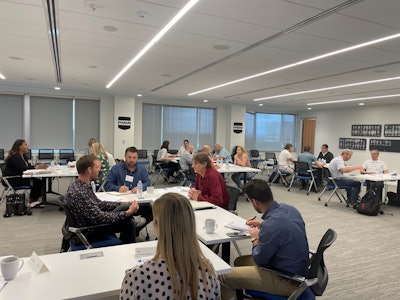 In addition to helping individuals focus on professional goals and identifying what motivates them as a person, the program is also an introduction to all of the benefits a PMMI membership brings. "For many people, this is their first initial touch point with PMMI, and by attending the PMMI leadership event they are building a network," says Fiorianti.
"It does provide great networking opportunities with other industry professionals, some of whom will end up being your own support group through the process," echoes Kim Overstreet, director of the Emerging Brands Alliance at PMMI Media Group. "Meeting the program participants for an initial two-day kick-off, and then again at PMMI's Annual Meeting was also a great way to get to know one another, and learn more about what other member companies do."
The tuition is $6,000 per participant, but the program is eligible for a $1,000 tuition reimbursement from the PMMI Foundation. Or, PMMI members could receive up to $10,000 in matching dollars by using the PMMI U Skills Fund for the current workforce if three or more employees are registered for the Leadership Development Program.
Ultimately, the long-lasting benefit for employers include:
· Better leadership
· Improved company culture
· Better decision making
· Improved productivity
· Increased employee engagement
· Increased retention through effective use of employee talent
· Improved ability to adjust to and manage change
For questions, please contact: Kate Fiorianti, Director, Workforce Development at 571.266.4406 or kate@pmmi.org. Or register online here: oemgo.to/leadershipdevelopment2023
Companies in this article