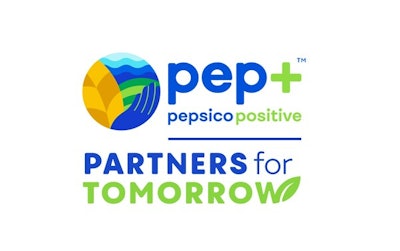 PepsiCo has launched pep+ Partners for Tomorrow, a new platform that delivers solutions to help its customers to achieve their sustainability goals. Partners for Tomorrow brings PepsiCo's customer sustainability offerings under a single platform to deliver critical solutions and will work directly with the companies to implement the initiatives.
---
---
Partners for Tomorrow includes:
CIRQU: The program includes the on-demand collection of recyclable beverage containers for foodservice and retail customers, which are then processed and reclaimed by PepsiCo to become recycled PET packaging. PepsiCo Beverages North America (PBNA) has partnered with Replenysh to make it easy and free for its customers to help ensure that plastic, glass, and aluminum containers are collected and recycled and that the recycled materials are integrated into the supply chain to be reused.
Reusable Cup Solutions: PepsiCo is piloting several reusable cup solutions with partners in select markets in support of PepsiCo's goal to have 20% of all beverage servings it sells delivered through reusable models by 2030.
Regenerative Agriculture: sow+ Agriculture will enable PBNA and PFNA customers to make direct investments in efforts to convert agricultural land to regeneratively farmed acreage. The investments will assist farmers through loans and grants with the aim to convert their land to new practices that help improve soil health, reduce erosion, and improve water quality. The program also provides a forum for convening industry influencers to discuss concepts, trends, opportunities, and risks around regenerative farming.
pep+ REnew: The pep+ REnew collaboration increases value chain partner access to renewable electricity as part of PepsiCo's goal to achieve net-zero emissions by 2040. pep+ REnew is designed to educate PepsiCo's value chain partners about their renewable electricity choices and speed up the transition to renewable electricity through aggregate power purchase agreements (PPAs) and other renewable electricity procurement options.
Companies in this article