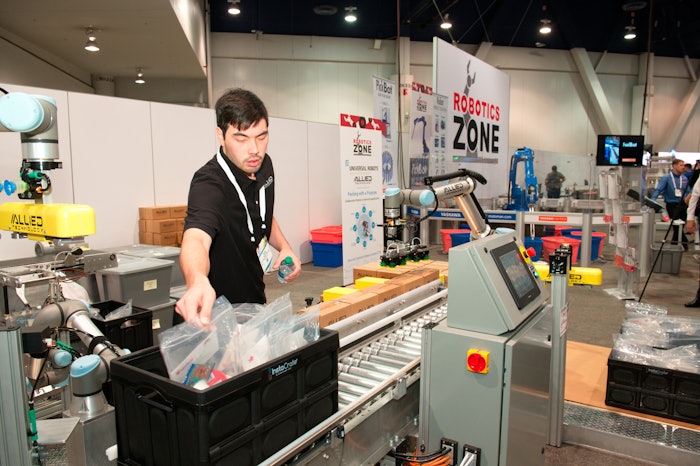 Production agility and flexibility have been important themes in manufacturing for a number of years, but equipment makers and product manufacturers alike are clearly recognizing how essential it has become to have a production environment that can cater quickly to changes in product options and mixes.
For consumer packaged goods (CPG) companies in particular, it is vital that their operations be able to keep pace with the ever-changing demands of their customers. "Our conversations with an OEM always started with speed and reliability," commented a representative from a major CPG during the Vision 2025 sessions at this year's PACK EXPO Las Vegas. "Now we are starting with agility, flexibility, formats, and sizes."
Audience polling at PACK EXPO Las Vegas found that 37% of attendees list repeatability/changeover setup as their No. 1 challenge; 29% asked for simplification of the changeover process. Production used to consist of core sizes along with a few outliers, according to one CPG, but now all products are different—changing how it operates its production and supply chain. "With customer differentiation, we are tweaking projects after the order starts, changing requirements in scope."
A large co-manufacturer agreed. "Our customers' expectations are much higher, and their demands vary a lot," he said. "Many of our customers have as many as 30 SKUs and they want products to be fresh, not sitting in a warehouse. So they are demanding short runs." Meeting the pressure for frequent changeover requires the right tooling and the right machine, he added.
Read "Breaking Down the Silos" for more on the Vision 2025 conversation.

As editors from PMMI Media Group (publisher of OEM magazine) scoured the aisles of PACK EXPO Las Vegas in September, they found many examples of the sorts of innovations being released to add the needed flexibility to manufacturing lines. Here are just a few examples from the show floor: 
Beckhoff's eXtended Transport System (XTS), which made its North American debut at PACK EXPO, was developed specifically based on increased levels of collaboration with OEMs and end users. Whereas speed and torque might have been the drivers for material handling systems in the past, the conversation now is focused much more on the need for flexibility.
The XTS has a high degree of flexibility in terms of the unlimited number of track geometry options. But the function of the track is also focused on flexible configurations and easy changeovers. Each mover on the track can move independently or be synchronized in groups and can be scaled up easily by adding more movers. Built-in collision avoidance makes programming of the movers easy as well.
In another take on the flexible transport system, B&R Automation was showing off its AcoposTrak technology that enables mass customization. Based on the company's adaptive machine concept, electronic diverters can pass products from one line of track to another at full production speeds, with the system software handling product flow and sorting. "Our PC is controlling shuttle trajectory, obviously, but also controlling collision avoidance, making the operator and the programmer's job a lot easier," said Dave Emory, director of Trak Technologies at B&R.
Pit lanes on AcoposTrak allow for in-process changeover and servicing with no machine downtime. At the booth, in fact, B&R integrated an ABB robot to show how easy it is for the robot to add or remove shuttles from the transport system automatically.
Wexxar Bel, a product brand of ProMach, showed how its new Delta 1H fully automatic hot-melt case former can make case size changes with the push of a button. It minimizes the level of operator engagement by automating many of the major adjustments on the case former, limiting human factors that impact machine setup and changeover. The machine also features an all-new ergonomic-to-load Modular Expandable Magazine (MXM) design that allows for manual case loading but can be adapted to automatic loading.
GEA redesigned its SmartPacker TwinTube high-speed packaging machine to accommodate product variances. Operating with two parallel forming tubes, a different film reel can run on each tube—so small food products such as candy, nuts, or other on-the-go products can be filled simultaneously in pillow bags of different widths or designs.
Robots/cobots on the scene
Much of the flexibility demonstrated at PACK EXPO came in the form of robotics. As part of the overall move to fulfill consumer demands, robot use continues to grow among CPGs, with the automation technology being used across the packaging line from picking to palletizing, according to James Cooper, executive director of global accounts for Fanuc America, who spoke on PACK EXPO's Innovation Stage.
In its booth, Fanuc showed its new CR-15 collaborative robot (cobot) performing a logistics order fulfillment application, with the ability to pick up random items from a bin. The company's new 3DV/600 area scanner enables the cobot to find objects in three dimensions, pick them from the totes and place them somewhere else, noted Wes Garrett, an account manager for Fanuc. With two speeds, the robot can operate as fast as 1,500 mm/s but will slow down to 800 mm/s if a human worker is nearby.
Watch a video of Fanuc's robot demonstration at PACK EXPO Las Vegas.
ABB Robotics showed how its standard IRB 460 palletizing robot could incorporate SafeMove2 to make it a collaborative operation, enabling occasional interaction between robot and humans. As part of the demonstration, a camera system developed as a result of ABB's acquisition of Spanish startup NUB3D provided information for the robot to create a more flexible environment.
"What we have is a system where the robot receives information from the cameras as to the next box to be palletized," said Alan Spreckley, global industry segment manager for food and beverage at ABB Robotics. "The real value here is that we can now depalletize mixed pallets of products, which is particularly useful in e-commerce and warehouse distribution environments."
In another palletizing example, Columbia/Okura partnered with Universal Robots (UR) to develop miniPAL, a mobile collaborative system that can address a range of applications in machine tending, palletizing, and packaging. The mobile setup makes it easy to move and redeploy the cobot to new processes.
In separate show news, UR upped the flexibility of its cobot lineup by adding a model that can lift up to 16 kg. The higher payload of the UR16e was developed after talking with OEMs and end users to better understand their needs—rather than the company's typical push of product into the market, noted Jurgen von Hollen, UR's president.
Mobility takes the flexibility of a cobot up another notch. At Omron's booth, the Mobile Manipulator was a proof of concept combining cobot technology with an autonomous mobile robot. "You can have the flexibility of a mobile robot, which is able to navigate in standard situations with different people and different environments using a safety scanner. And by putting the collaborative on top of that, we can take the flexibility of being able to do things like machine tending, replenishment, and also interacting with different parts of the plant and different people in a collaborative fashion," said Keith Kersten, marketing group manager for Omron. "So by putting both of these together, you get flexible manufacturing, you have it in a safe way, and you also are able to do it without making big changes in your plan or in your environment."
Kuka Robotics has taken a similar approach, mounting cobots on top of mobile robots and setting them to work together in a collaborative system. Kuka's KMR iiwa combines its LBR iiwa lightweight robot with a mobile, flexible platform. As demonstrated in Kuka's booth, the system adapts easily to changing manufacturing processes to optimize production. The robots can communicate with each other to more easily work together as a complete system.