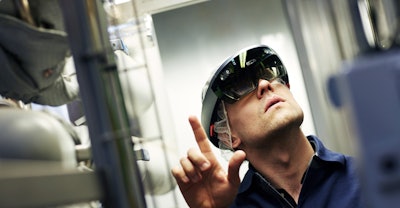 When a new technology disrupts long-standing, traditional practices, it can be challenging to incorporate new techniques into old work routines. Augmented (AR) and virtual reality (VR) technologies have been buzz words in the industry for a couple of years now, but the benefits the technology brings have been highlighted more than the actual steps and processes to implement it. This has machine builders wondering if the technology is practical for their business. Other industries like automotive and aerospace have successfully implemented the technology and have used it for years to streamline manufacturing and assist with maintenance and assembly… so why can't the packaging and processing industries do the same?
When OEM magazine reported on altered reality more than two years ago, the technology was in its infancy and may not have been OEM-ready. But with more practical use cases from packaging and processing machine builders, it appears that augmented and virtual reality have finally arrived.
Before machine builders can dive into the technology to unlock its benefits, it's critical to understand the difference between augmented and virtual reality.
While both versions of altered reality use some of the same technology and provide an enhanced virtual experience, the capabilities, equipment and software needs vastly differ.
Virtual reality is an artificial, computer-generated simulation of a real-life environment. Virtual headsets provide a firsthand experience of a simulated reality, to the exclusion of the actual surroundings. The technology needed to simulate virtual reality is a headset, such as the Oculus Rift or the HTC Vive, which retails anywhere from $120 to $800. The environment itself can be created through a coding language known as virtual reality modeling language (VRML), which can also be found in the AutoCAD files that OEMs already use to create 3D models of their equipment.
Since operators cannot see the real world around them when they are using a virtual reality headset, the opportunities virtual reality brings to manufacturing and service are limited. But it still offers a unique approach to trade show marketing, machine demonstrations and employee training.
Augmented reality, on the other hand, layers computer generated enhancements, like digital images and graphics, over an existing reality. This allows users and operators to interact with the world around them while in an augmented reality state. Augmented reality uses headsets, too, but unlike virtual reality headsets, they allow operators to see through the headset into the real-world. This technology may prove to be ideal for remote maintenance, employee training, and machine assembly. Augmented reality headsets like Google Glass or Microsoft HoloLens retail anywhere from $199 to $4,500.
How AR and VR will impact your business
As technology adoption soars, different use cases have surfaced from OEMs using altered reality to make a difference in their operations and how they handle customer relationships.
One of the areas that stands to be revolutionized by AR is field service and remote maintenance. Augmented reality headsets like Google Glass and Microsoft HoloLens allow OEMs to successfully and quickly fix their equipment from a remote location by being able to look into the equipment in real time without having a service tech or employee fly out to the customer site. Offering remote maintenance services eliminates the cost and time it takes to send out a technician to a customer plant, while also expediting the time it takes to get a machine back up and running.
Tetra Pak, a Swiss food packaging and processing equipment manufacturer, has deployed about 140 Microsoft HoloLens headsets in the field that its customers use for remote support.
The OEM prioritizes the customers that have advanced, outcome-based contracts where speed of delivery and outcome is critical to deploy its remote maintenance service.
"What we have seen is the speed in which we are able to resolve issues can be much faster and so that's one of the key benefits for our customers," says Seth Teply, Tetra Pak's vice president of services for the U.S. and Canada.
Machine operators can dial into the remote support network, and a Tetra Pak specialist will see what the person in the field sees through cameras embedded in the Microsoft HoloLens headset. They can also quickly drag and drop any documents into the view of the headset that the operator may need to fix the equipment. The Tetra Pak specialist can also validate the results of the work remotely, which has proven to be successful for the OEM, according to Sasha Ilyukhin vice president of Industry 4.0 solutions and customer success, who is leading Tetra Pak's Industry 4.0 efforts.
Ilyukhin says implementing augmented reality a couple of years ago sparked interest in the company in finding other ways to use the technology to bring additional value. The company has also been using the technology for line visualization in a customer facility, which has won Tetra Pak major points with its customers.
"When we go to the customer site and we are installing a new line, we want to visualize with the customer how the line will look," Ilyukhin says. "With the augmented reality device, we are able to walk around the space and move the equipment pieces around and perfect the layout before the physical layout is done. It's been very well appreciated among our customers because layouts are tricky and not everything can be foreseen before the physical installation is done."
H.B. Fuller, a St. Paul-Minn.-based case and carton and container labeling adhesive manufacturer, began using altered reality internally because the company's IT senior project manager Jason Sagstetter convinced them the technology would be a game changer for its business.
"I've actually worn Google Glass more than anyone in the world," Sagstetter says. "I've worn it every day from sunrise to sunset for the past five years since Google launched its explorer program. This technology has the potential to revolutionize the way companies do business."
H.B. Fuller is currently testing its Remote Expert Program, which uses the Enterprise Edition of Google Glass to do remote assistance. Being able to offer remote assistance is critical in the industries H.B. Fuller sells equipment into because the environments are hostile to electronics and humans.
Bausch+Ströbel, a German pharmaceutical equipment manufacturer, started using virtual reality in 2013 for digital engineering and product development. It has since applied it to many aspects of its business including virtual mock-up studies, design reviews, safety studies, ergonomic studies, failure mode effects analysis, machine redesign assessments, computer-aided engineering and more.
"When we introduced the VR system, our customers and our staff were quite curious," says Florian Naser, who works in the systems product creation of applications at Bausch+Ströbel. "At the beginning, it was strange for everybody to work with a machine mock-up that they could not touch because it was a very different sensory experience. Still, the spatial view and fine details of the machine model were convincing, and it wasn't long before curiosity transformed into continued support of the technology. We've been working with VR for a few years now and there are benefits for our customers and us."
And as any PACK EXPO attendee could tell you, virtual and augmented reality headsets are the latest exhibitor accessory at trade shows, but they are also making an appearance on the OEM's plant floor. Before cutting metal and assembling a machine, virtual
and augmented reality have made it possible to design the equipment and watch it run. When it comes to designing equipment, there is no scope for fast changes or small tweaks, according to Ajay Rana, business developer for Siemens Industry. But augmented and virtual reality provide more flexibility
to format the digital twin of the machine quickly, while also allowing OEMs to present the equipment to the customer before investing any money into materials.
"Once you are designing this machine in your regular CAD programs, you can create key points that describe how the machine performs on an augmented reality platform. And with that, you can create augmented reality inside a virtual model and see what the machine looks and runs like through the headset," Rana says.
Ultimately, virtual commissioning like this can save time and money because even complex and highly-customized production can be calculated, tested and programmed quickly.
Addressing AR challenges
While the technology benefits may seem like a no brainer as to why manufacturers should implement, there are challenges associated with all aspects of AR and VR. But luckily, some OEM peers have paved a way for an easier implementation.
Being able to connect with customers and get their machine back up and running in as little as five minutes without having to send a technician across the world may be the solution to what keeps machine builders up at night. But when it comes to using this technology for remote maintenance, OEMs may face strong headwinds from security-minded end user IT departments as the machine builder must patch into a Wi-Fi network to connect to their machine.
When Tetra Pak started offering its remote maintenance service, the company knew how to approach the touchy topic of connectivity because it had been collecting data from its equipment and storing it in the cloud through its own demilitarized zone (DMZ) router setup placed in the end user's facility. The purpose of a DMZ is to add an additional layer of security onto a local area network (LAN) because an external network node can only access what is exposed in the DMZ, while the rest of the end user's network is firewalled. Should a cyber breach or attack occur, the DMZ functions as an isolated network between the Internet and the end user's network, it would allow the end user and machine builder extra time to detect and address a breach before hackers were to completely penetrate the internal network.
"When we deployed HoloLens, we put it on the network we created to solve the issue of data integrity, and our customers were really receptive to that," Ilyukhin says. "When we engage our customers in these areas, it prompts a lot of good discussions that may not take place, and it may drive discussions on other ways to improve the customers' downtime or product quality."
Similarly, H.B. Fuller has been using hardware VPN's, private WiFi, routing and encryption to to mitigate the IT red tape. But beyond having a virtual private network, Sagstetter says it's important to educate customers on the technology to win their buy in.
"Most customers are more accommodating when they understand the technology and that they can keep the connection isolated from their network when performing remote maintenance," Sagstetter says.
After clearing the IT hurdle, Tetra Pak had another implementation obstacle to overcome: bandwidth. According to Ilyukhin, having enough network bandwidth to support remote maintenance is key because even if the network is onsite, it still operates as a Wi-Fi network and with so many devices communicating and connecting to equipment, the signal isn't always strong enough. Tetra Pak used repeaters—a device that receives and retransmits signals—and dedicated routers to ensure the network was strong enough to clearly and accurately handle remote support.
Because Tetra Pak works with end users in the food and beverage industries, another point of contention between OEMs and CPGs is having cameras on the factory floor. Because augmented reality headsets have cameras embedded in them, end users often worry about factory conditions being photographed and leaked—should there be an instance of misconduct or subpar sanitation conditions, for example. But Tetra Pak mitigates this concern by explicitly disclosing how the technology will be used—and will not be used—inside a customer's factory, outlined in an in-depth agreement and site survey.
"We discuss up front how the system will be used to address picture and video confidentiality, and in some cases, the customer may want to be able to turn the system on and off and be able to control when we access that portion," Teply says. "We set that up in advance so that expectations are clear."
Another main barrier between OEMs and successful implementation of AR and VR technologies comes down to the implementation process itself and assigning responsibility to either a team within the OEM's company or a third party vendor.
"Companies try to implement wearables, but fail because they went to a vendor who delivered the technology, but the vendor doesn't know the OEM's business model," Sagstetter says. "No one knows your process better than your employees."
Overcoming the obstacles of implementing a new technology
While AR and VR may seem like the answer to many common pain points, with any disruptive technology and shiny new gadget comes adoption challenges. Two years ago, the mindset around AR and VR was questioning whether or not it was something the packaging and processing industries could use in an impactful way. But now that the industry has seen practical use cases, the biggest question OEM magazine hears from machine builders is, "How?"
H.B. Fuller's Sagstetter says companies should take a crawl, walk and then run approach, which is what his company is currently attempting.
"We did a couple of business cases for testing internally early last year. Then we launched a real pilot case where we were doing real-time collaboration for R&D and Remote Technical Service for troubleshooting," Sagstetter says. "This process is how we got acclimated to the experience with both the platform and headsets. We are hoping to expand it into a customer pilot soon."
Sagstetter will be presenting his findings and his company's progress at The Automation World Conference & Expo, May 14-15 in Chicago. Learn more and register for the conference at automationworldconference.com
For Tetra Pak, partnering with a technology giant like Microsoft was the answer to successful implementation.
"I think it's important to evaluate all of the technologies available on the market," Ilyukhin says. "For us, the Microsoft partnership has been outstanding, but there are other technologies and there will always be pros and cons with each device. That evaluation is absolutely needed because who you partner with and the technology you use depends on what use cases the company sees in the future."
There really is no step-by-step presentation to successfully implementing altered reality technologies. Rather, it's the experience and the discussions that come from implementing the technology that OEMs can learn from the most.
"Every company and use case is different. If you are adamant about embracing this technology, just get started and learn as you go," Ilyukhin says.
When OEMs think about implementing AR and VR, they tend to start with identifying the type of wearable or technology they want to use, but this isn't the most efficient route to implementing the AR and VR into an OEMs business, according to Dirk Schart, president and general manager of RE'FLEKT Americas, the San Francisco-based office of the Munich, Germany technology company. RE'FLEKT is an enterprise AR ecosystem that fuses content automation and remote collaboration.
"Manufacturers come to me and say they want to use smart glasses, but they don't know how they want to use them," Schart says. "For successful implementation, it's critical to think about the needs, the use case and what your organization wants to accomplish with this technology."
Products that make AR and VR adoption simpler
The hype around AR and VR typically centers around wearable headsets, but OEMs shouldn't overlook the power of existing devices like smartphones and tablets to begin using augmented and virtual reality.
"There are a lot of things you can already do with a mobile phone and tablet," Teply says. "Depending on the application, that's where who to partner with becomes so important because with certain applications you don't need a special tool to enable."
In 2018, Rockwell Automation and PTC—a computer software and services company—partnered to debut the FactoryTalk InnovationSuite powered by PTC. The new collaborative offering includes intuitive interfaces, automated analytics and augmented reality technologies to optimize industrial operations and enhance productivity.
During PACK EXPO International 2018, Harpak-Ulma demonstrated Rockwell's Augmented Reality App to complete a virtual changeover. Rather than having a machine operator watch a video or a manual to learn how to do the changeover, Rockwell's app allows an operator to use an iPad that will show them how to complete the changeover step by step, while authenticating and validating it. The app also allows operators to view operational parameters of the equipment, which could be great for remote diagnostics or maintenance.
To use any kind of augmented or virtual reality technology like Rockwell's app or a headset, an OEM must first import CAD drawings of its equipment into a platform or software program that can create the virtual environment and program triggers for augmented capabilities.
"We had three engineers at Harpak-Ulma that we tasked with uploading the CAD drawings of the machine and creating the augmented reality environment and experience, and it took them four days to get it customized," says Mike Wagner, Rockwell Automation's global segment lead for packaging. "It's pretty easy to program, and OEMs use the CAD drawings they create when they build the equipment so they are already familiar."
When it comes to using AR and VR for plant floor visualization or machine design, Siemen's NX software helps OEMs create a digital twin of their equipment and provides an integrated toolset that coordinates disciplines and preserves data integrity and design intent to streamline the machine building process. This also makes design changes simpler and less costly than if the OEM were to build the physical machine and then solicit customer feedback.
"An OEM is able to sell the design before the machine is even built, so there is no investment on the capital side and he has more cash in his hand, which he can invest in developing his machine even further," Rana says.
When it comes to remote maintenance and support, Tetra Pack's Ilyukhin says it's critical to have a system in place that connects field staff to support experts at the very moment a piece of equipment goes down. But it's a little more nuanced than dialing a phone number when it comes to using augmented reality, as other elements such as video, photos and the sharing of PDF manuals complicate the connection and communication.
Enter, REFLEKT Remote, a remote video collaboration solution that provides intelligent routing and cloud-based incident management for Android, iOS, Windows and smart glasses. This platform allows end users to chat with OEM service teams in real time while being able to share multimedia elements like video and PDFs to assist operators and technicians in restoring equipment quickly.
"Traditional video stream services, such as Skype or Google Hangouts, require that you know the expert you want to call and that the expert is available," Schart says. "These tools do not let you organize the incidents, and you have to scroll through the entire feed. Automated routing and incident management allows a professional work flow in enterprises."
RE'FLEKT has a suite of augmented reality programs to help manufacturing companies embrace the technology in a scalable way. From creating the actual augmented environment to connecting end users to OEM support teams, Schart says he wants to make augmented and virtual reality a technology that manufacturers can practically use in day-to-day operations. The company's first product REFLEKT One makes augmented reality possible for virtually any organization to use by allowing companies to import content they already have—such as videos, photos, articles etc.—into the platform, which makes them viewable in an augmented environment.
"I see a lot of opportunities for packaging OEMs," Schart says. "Augmented reality reduces errors when it comes to remote support and it improves communication. There is so much potential for augmented and virtual reality in this industry. As we see larger and mid-size companies implement this technology, manufacturers will really see how we can use this technology in a scalable way."
Where there is risk, there is reward
Tetra Pak's Teply says he is looking forward to seeing how VR and AR continue to drive the OEM's business.
"If you look at the trends of equipment utilization and cost of downtime, and you compare aerospace and oil and gas to the food and beverage industry, it is on the lower end of the scale when it comes to asset utilization," Tetra Pak's Ilyukhin says. "But the pressure is on, and with utilization continuously increasing, it comes with a higher cost of downtime and significantly more pressure to get lines back in production faster than ever."
As equipment portfolios grow and technologies get more complex, Ilyukhin says retaining all of the competence within the company's talent will become difficult, and he sees AR and VR being able to assist the company in connecting support networks with technicians on-site to effectively bridge the gap. Another future use case for Tetra Pak is in machine safety as augmented reality headsets can see things like power switch positions and alert operators before they start working on a machine if the switch is in the wrong position. Tetra Pak also sees the potential this technology has to provide more comprehensive training for new employees or current employees using new equipment.
"There are so many applications for these technologies that we haven't even thought of yet," Ilyukhin says. "We started with remote support, then we progressed to line visualization and now we are testing remote certification and that drives a lot of productivity within our company because we don't have to fly people around more often. There are more use cases in the pipeline, and none of it was expected when we started."
Siemens' Rana says eventually, end users will create a more immediate impetus for these technologies as they begin to request that equipment is built faster and even express interest in being able to help customize the design of their machines.
"The market is big, but it's not enthusiastic," Rana says. "There will be an investment involved on the OEM side, so they have to be inclined to change the culture and how their people think about the technology. And as the end user pressures the OEM to design things faster, the tide will rise and I think OEMs will take a dip in the augmented waters."