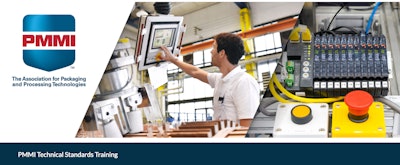 Designed by PMMI and with support from The International Trade Administration, this free course walks participants through the fundamentals and importance of standards engagement and the development process. The course's three modules will increase your team's awareness and knowledge of U.S. and international standards, explain the U.S. and ISO standards development process and show you how your company can participate in the development of ANSI and ISO standards.
Standards Development Module 1:

What standards are?
Why standards are important?
The difference between National and International standards
Why you need to be involved in standards development as a manufacturer
Standards Development Module 2

About the American National Standards Institute (ANSI)
About Standards Developing Organizations (SDOs)
The standards development process
The requirements for involvement in the development of international standards

Standards Development Module 3

About international standards development organizations
Differing philosophies for writing standards
About the ISO standards development process
About U.S. involvement in the development of international standards
Find out more and register for FREE at pmmi-standardstraining.com.