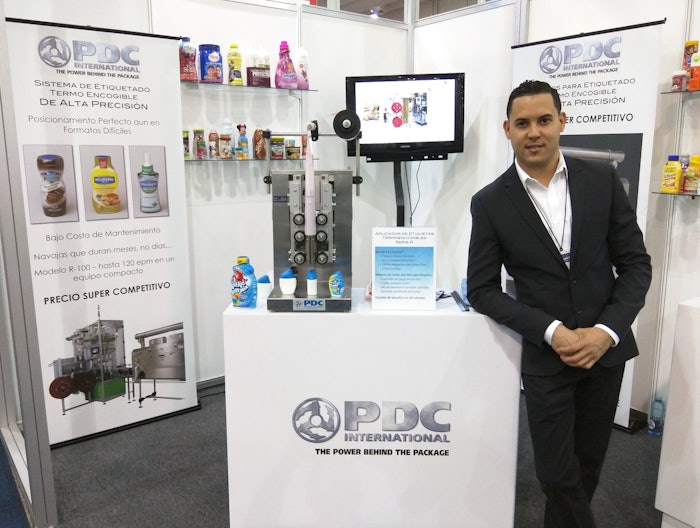 Rick Nuñez
Rick Nuñez started his journey in the packaging field right out of college as a junior design engineer at PDC International Corp., a manufacturer of shrink sleeve labeling and tamper-evident machinery. After 13 years of holding various roles at the company, Nuñez is now the sales engineer for North and South America. When he entered into the packaging space, it was all new territory to him as a college graduate, but Nuñez finds himself intrigued and inspired by the ability to create and innovate. As he keeps rising through the ranks, Nuñez is setting his sights on holding more of a leadership role in the future.
OEM Magazine: What has your time at PDC been like?
Rick Nuñez: I started as a junior design engineer right out of college. And then, I worked in engineering for multiple years until I was promoted as a sales application engineer, which was focused on supporting the sales team. In that position, I worked for a few years and learned about the sales side of the business. From there, I was also promoted to sales engineer, which is my current role now. I handle multiple accounts, specifically, in the Latin American market. Because of my engineering background, I can effectively explain our system to customers as a salesperson.
OEM Magazine: What is the most fascinating part of your job?
Rick Nuñez: I love traveling and meeting with people. With this new role, I get to visit different places and customers. It's always fascinating to learn about other processes. The packaging industry is huge, and I find that there are new technologies and processes at every company. With COVID-19, the traveling got scaled down, and while I wasn't able to travel, I was able to still keep in touch and work with my customers in Latin America through different apps that allowed us to chat, share video, and call each other. In regard to tradeshows, not being able to engage with people in person has been more challenging. But we are looking forward to attending PACK EXPO Las Vegas in September.
OEM Magazine:  What are some industry trends or demands you are coming across?
Rick Nuñez: A lot of customers are looking for a more modern look with their machine. Technology is always advancing and moving forward and there are so many options for PLCs and HMIs. Our customers are really focused on incorporating new PLC and HMI screens because they want to patch them into a network so they can monitor data. These PLCs and HMIs also make it easier to have fewer machine operators on the floor.
OEM Magazine:  How are the North American and Latin American markets different from one another?
Rick Nuñez: They are definitely different. The difference in language is important to note. I speak Spanish so I am able to reach these customers as they feel more comfortable with someone who knows their language. The Latin America market is looking more at the cost rather than the benefits or value of the equipment. Cost is one of the biggest issues we come across.
OEM Magazine: Do you enjoy being a part of PMMI's Emerging Leaders Network?
Rick Nuñez: I do. I have been involved in the Emerging Leader's Network for two years now. I love meeting new people and learning about what they do and how they do things on a daily basis. I'm always motivated to learn because we always share new ideas and best practices with each other.
OEM Magazine:  As a rising star in your organization, what is next for you?
Rick Nuñez: I want to continue to evolve within the company. We are in the process of bringing up the next generation who will run the company, and hopefully, my name is on the list.
Companies in this article