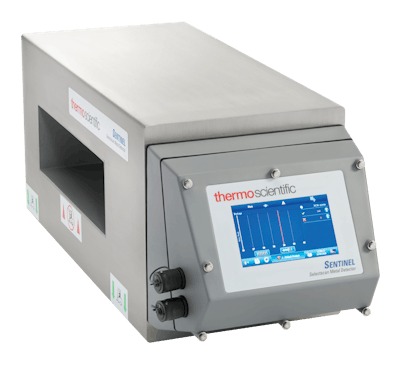 The foremost of Thermo Fisher Scientific's products on display was the Thermo Scientific Sentinel 1000 Selectscan metal detector, which made its first appearance at PACK EXPO Las Vegas. Designed to enable food processors to rapidly identify the best frequency for their application, the Sentinel 1000 detects ferrous, non-ferrous, and stainless steel foreign objects in food. It tunes out product effect and adapts results to account for temperature changes and electromagnetic interference. The Sentinel 1000 metal detector also provides documentation of results from each production run.
Next, the company had its Thermo Scientific VersaWeigh checkweigher/Thermo Scientific Sentinel 3000 metal detector combination unit on display, which is a space-saving, value-packed combo unit that integrates the metal detector's electronics with the checkweighers for ease of use. It also combines important functions like program changes, alarms, and rejection statistics.
Then there was the Thermo Scientific Sentinel 5000 Multiscan metal detector for increased sensitivity and the highest probability the company can offer of detecting metal foreign objects in difficult food applications. The 5-user-adjustable-frequency Sentinel 5000 metal detector with proprietary Multiscan technology is created to meet food safety and quality requirements as well as food processor goals.
"The five frequencies give you the best chance of finding a contaminant," said Ellen Share, Marcom manager, production process & analytics, chemical analysis, Thermo Fisher Scientific. "We've also taken the Sentinel technology and created a model with Multiscan that works seamlessly with our VersaWeigh checkweighers, which offers companies a smaller footprint than they would get with two separate machines."
Lastly was the company's Thermo Scientific NextGuard Pro X-ray Inspection System. This system finds both metallic and non-metallic foreign objects. The Thermo Scientific NextGuard Pro is meant for food processors making the transition from metal detection to X-ray inspection who require a system that can handle a package weight of up to 110 pounds.
Companies in this article