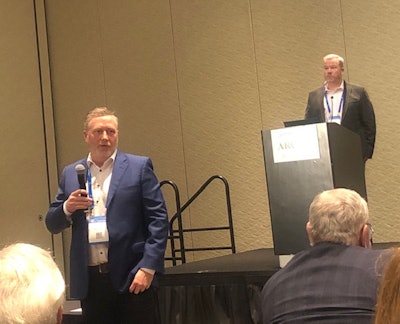 Automation and energy management supplier Schneider Electric announced the launch of its new Industrial Digital Transformation Services this week at the 27th annual ARC Industry Leadership Forum in Orlando, FL. This consulting practice has been designed to deliver specialized global services to help industrial enterprises achieve future-ready, innovative, sustainable, and effective end-to-end digital transformation.
While Schneider Electric has always had a consulting component as part of its technology offerings, this is the first time it will address a specialized end-to-end service specific to the acceleration of successful digital transformation.
"We are focused on capabilities from the factory floor all the way up the value chain," said Gregory Tink, director of Industrial Digital Transformation at Schneider Electric. "Companies are really trying to focus on how to get more from their data and how to align operations from that value chain perspective."
And there is good reason it is happening now, primarily because Schneider Electric has already gone through the digital transformation process in several of its factories.
In fact, Schneider Electric is one of the few companies in the world that has earned multiple distinctions of 4th Industrial Revolution (4IR) Advanced Lighthouse by the World Economic Forum for its own global smart factories and distribution centers. Lighthouses are factories that have taken 4IR technology from pilot to integration at scale, to transform operations, value chains and business models for compelling financial, operational, and sustainability returns.
"We already drank our digital Kool-Aid," Tink said. "We've transformed factories and it has ripple effects all the way through. There's more visibility into how data flows and more capability to do work outside of that."
Based on this proven and scalable methodology for impactful industrial digitalization, Schneider's digital transformation services include discovery, diagnosis, strategy, design, implementation, and ongoing customer success. The focus is to demonstrate impact on a range of targets, including:
· operational efficiency and workforce empowerment
· sustainability and energy efficiency
· asset optimization
· cybersecurity
According to Craig Resnick, vice president of consulting at ARC Advisory Group, about 83% of end users and OEMs are moving forward on their digital transformation journey, but only about 7% feel they have completed the process. "Therefore, it's imperative that end users and OEMs consider using digital transformation services, such as those offered by Schneider Electric, to accelerate their digital transformation journey and more quickly derive financial benefits, while decreasing unplanned downtime."
"It's really about the resiliency of the organization," Tink added. "[Manufacturers] realize they need to be more resilient in an ever-changing world—that's what's driving this."
Companies in this article