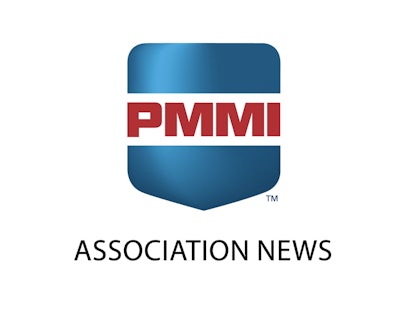 Register Now for Automation World Conference & Expo
Registration is open for the re-branded Automation World Conference & Expo (May 14-15; Chicago Marriott O'Hare), produced by PMMI Media Group, a division of PMMI, The Association for Packaging and Processing Technologies.
Now in its ninth year, the event serves as the premier peer-to-peer educational and networking event for industrial automation professionals in the process industries, discrete manufacturing and packaging. The conference program, overseen by David Greenfield, Automation World's chief editor and director of content, includes industry expert-led general sessions, in-depth Technology Workshops and tabletop exhibits.
Formerly known as The Automation Conference & Expo, the name change leverages the trust and recognition earned by Automation World, a PMMI Media Group publication
"With the Automation World team steering the conference and expo's direction for the past several years, the natural progression was a formal integration of our well-known and respected publication into the event's brand," said Automation World publisher Kurt Belisle.
Designed for automation professionals across all industries, the Automation World Conference & Expo features a diverse educational program for technology end users with the following job areas of responsibility:
Automation and control engineers

Operations and engineering management

Manufacturing systems/IT and networking professionals

Packaging engineers industrial systems and machinery designers

Purchasers of equipment for OEMs and discrete manufacturers, as well as processing and packaging operations systems integrators

Software development engineers for the discrete and process production industries
Some highlights of this year's program include:
Real world experiences preparing for the Industrial Internet of Things/Industry 4.0

OpX Leadership Network insights into manufacturer and OEM best practices

Subaru's use of automation software to drive industry-record turnaround times

A look inside Johnson & Johnson's predictive maintenance journey

Technology workshops with Inductive Automation, Lapp, Siemens and more.
Information about exhibiting, sponsoring or presenting is available at AutomationWorldConference.com or by contacting Kurt Belisle at 815-549-1034.
At the conclusion of the Automation World Conference and EXPO, join PMMI partner OMAC on May 16, also at the Chicago Marriott Hotel, for a full day of hands-on PackML training with experts from B&R Automation, Bosch-Rexroth, Rockwell Automation and Siemens. The small-class style training will include basic and advanced PackML coding and programming sessions:
Basic training and programming
History and development of PackML

PackML benefits

Understanding and applying the PackML State Model

Basic coding and programming with a PackML Library

Using PackTags

Introduction to using OPC-UA and PackML together
Advanced coding and programming training
Best practices for identifying modes and states for your application

PackML coding and programming best practices

PackML module development, code reuse

Guided advanced coding and programming practice

Guided advanced practice using PackTags

Practical experience using OPC-UA and PackML together
For more information and to register visit: oemgo.to/omacevent
--------
Great Customer Service Makes Great Companies
Join PMMI U at Polypack in Tampa, Fl. on April 23-24, 2019 for Fundamentals of Field Service. This unique workshop provides interactive training for field service technicians to teach them the non-technical knowledge and skill needed to be a great technician. Attendees will learn about:
Communicating with different levels of your customer's organization

Customer service and relations

The importance of documenting service calls

Troubleshooting and new technology
New technicians, assemblers and engineers going out on a service call or technicians who could benefit from a refresher should register for this workshop.
Can't make this date? Upcoming PMMI U training includes:
Fundamentals of Field Service
June 25-26; Delkor; Minneapolis

Sept. 23-24; PACK EXPO Las Vegas
Certified Trainer Workshops
May 1-2, PMMI Office, Reston, Va.

June 19-20, Septimatech, Waterloo, Ontario

Sept. 23-24, PACK EXPO Las Vegas
Risk Assessment Workshop
Sept. 22-23, PACK EXPO Las Vegas
For information on registration or on hosting a customized workshop at your facility please contact Marco Paulina, workforce development assistant, at mpaulina@pmmi.org or call 571-612-3204. For more information, visit: oemgo.to/pmmiu
-------
Get Global in 2019
The global packaging and processing machinery market offers endless opportunities for OEMs willing to invest in international markets. PMMI offers exclusive programs such as the Trade Show Assistance program, the ExportEXPERTS program, and the Directory of Agents to ensure that our members are ready for every trade show.
PMMI will host promotional booths and pavilions at these upcoming trade shows:
Be sure to take advantage of complementary services available in the PMMI Pavilions at these shows, including (but not limited to) export counseling, market information, on-site interpreters, private meeting rooms, a business lounge and free Wi-Fi.
Direct questions about these upcoming international tradeshows to Paige Jarvi, global marketing coordinator, PMMI at pjarvi@pmmi.org.
----
Beware Of Unofficial Vendors
PACK EXPO and Healthcare Packaging EXPO exhibitors have reported receiving solicitations from vendors not affiliated with PMMI or PACK EXPO, specifically regarding attendee list sales and advertising in Packaging Industry News, which is published by the Source Group.
Misleading solicitations for Show Daily
PMMI is in receipt of reports from exhibitors stating that representatives from the Source Group were walking the aisles at past PACK EXPO and Healthcare Packaging EXPO shows attempting to sell advertising slots for future editions of Packaging Industry News and were misleading exhibitors to believe this was the official Show Daily for PACK EXPO Las Vegas and Healthcare Packaging EXPO. Please note that PMMI has NO affiliation with the Source Group and their publications are strictly prohibited from being handed out on the premises of the Las Vegas Convention Center during the show, as well as inside all hotels within the PMMI housing block. To advertise in the official Show Daily, please contact Mary Thorne at mthorne@pmmi.org or by phone at 610-647-8585.
"There are hundreds of unofficial vendors," says Merideth Newman, director of exhibitor services at PMMI. "We have our PACK EXPO logo with the words 'official vendor' that all of our official vendors use in their emails and on their websites."
Attendee email list scams
PMMI would like to remind all exhibitors that the attendee mailing list for PACK EXPO Las Vegas and Healthcare Packaging EXPO is available for rent through PMMI only. Any solicitation claiming to have the email list of PACK EXPO Las Vegas and Healthcare Packaging EXPO attendees is fraudulent, as PMMI does not sell or rent the attendee email list.
Hotel reservation scams
PMMI is in receipt of reports from exhibitors who have booked hotel rooms through various third parties only to subsequently learn that no reservations are in place and deposits along with full prepayment are not being returned.
Additionally, numerous convention bureaus are reporting hundreds of complaints from trade show managers who are receiving similar reports from exhibiting companies who booked rooms through a "third party room broker" and ended up at sold out hotels with no reservations and no recourse for the payment of rooms. These brokers falsely imply they are affiliated with show management and secure deposits and/or full prepayment from exhibiting companies.
The official hotel reservation office for all PACK EXPO shows is Expovision. PMMI reminds its exhibitors that it has no affiliation with any of these room brokers. The only company that is officially sanctioned and certified by PMMI to book hotel rooms on behalf of its exhibitors and attendees as the PACK EXPO and Healthcare Packaging EXPO Hotel Reservation Office is Expovision. They can be accessed by phone at (866) 523-0877 or (703) 205-0480. Or you can book your room online today.
Please contact Expovision with any solicitations or questions.
Exhibitors beware
PMMI urges all exhibitors to be especially diligent when engaging with any vendor who is not an official contractor of PACK EXPO. PMMI and its official PACK EXPO vendors will never send emails from a non-business account such as gmail, yahoo, outlook, etc.
If you receive a solicitation and are unsure of the vendor's affiliation with PMMI or PACK EXPO and Healthcare Packaging EXPO, please contact the PMMI Show Department at 571.612.3200 or expo@pmmi.org.